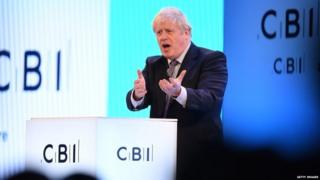 Planned cuts to corporation tax next April are to be put on hold, Boris Johnson has told business leaders, with the money being spent on the NHS.
The rate paid by firms on their profits was due to fall from 19% to 17%.
But the PM told the CBI conference the move could cost the Treasury £6bn and the cash would be better spent on the "nation's priority".
Meanwhile, Jeremy Corbyn said business had "so much to gain" from a Labour victory, including record investment.
In his own election pitch to employers and entrepreneurs, the Labour leader said claims he was anti-business were "nonsense" and a future Labour government would deliver "more investment than you have ever dreamt of".
And in her speech later Liberal Democrat leader Jo Swinson will say hers is the "natural party of business" because it wants to cancel Brexit.
In his remarks, Mr Johnson said business helped fund the nation's number one priority by "creating the wealth that actually pays for the NHS".
He said the Conservatives "believe emphatically in fiscal prudence" and had decided against going ahead with a further cut in corporation tax, a step first proposed by Chancellor George Osborne in 2016 to boost business in the wake of the Brexit referendum.
But many economists said the move would be unnecessary and potentially counter-productive, with a study based on HMRC data last year suggesting it could mean £6bn a year in lost government revenues.
Mr Johnson said the UK already had the lowest rate of corporation tax of "any major economy", the Conservatives having reduced it from 28% since 2010.
"Before you storm the stage, let me remind you that this saves £6bn that we can put into the priorities of the British people including the NHS," he added.
The Conservatives are committed to giving the NHS an extra £20bn a year for day-to-day operations by 2023, and an extra £1.8bn in capital expenditure for new buildings and IT.
Labour has said increasing corporation tax to 26% will raise billions to be spent on its priorities, including health and education.
Mr Johnson is hoping to win a parliamentary majority on 12 December, get his Brexit deal taking the UK out of the EU into law by 31 January, and begin talks with Brussels on a permanent trading relationship.
The Conservative leader told the CBI conference that, while big business did not want to leave the EU, "what is also clear is that what you want now – and have wanted for some time – is certainty".
He also announced a review of business rates in England, with the aim of reducing the overall burden of the tax, as well as a cut in National Insurance contributions for employers, which already benefit from a reduction known as the employment allowance.
The Conservatives would also increase the Research and Development tax credit rate from 12% to 13%, designed to boost manufacturing and the professional, scientific and technical services sectors, as well as tax relief for landlords and builders.
'Central motor'
In his remarks, Mr Corbyn said businesses had "so much to gain" from a Labour government, which he said would invest billions in the nation's infrastructure, education and skills training.
While he understood their caution about Labour's nationalisation programme, he said, it was "not an attack" on the free market but would put the UK in line with European neighbours where key utilities and transport were in public hands.
"It is sometimes claimed I am anti-business," he said. "This is nonsense. It is not nonsense to be against poverty pay. It is not nonsense to say the largest corporations should pay their taxes, just as small companies do.
"It is not anti-business to want prosperity in every part of the country, not just in financial centres in the city of London."
The Labour leader also set out Labour plans to train 80,000 people a year as part of a "climate apprenticeship" programme, which would see 320,000 apprentices trained in jobs such as construction, manufacturing and design within renewable energy, transport and forestry.
It would be funded by diverting 25% of the funds that employers already set aside through the Apprenticeship Levy and topped up by any dividends over the cap paid into Labour's Inclusive Ownership Funds – the party's plan to give workers a 10% stake in their employers.
Lib Dem leader Jo Swinson will tell business leaders that her party is the "natural party of business" as part of her case for the UK staying in the EU.
She will attack the other two parties' plans to spend on big infrastructure projects, according to remarks circulated before the conference.
"Both the Conservatives and Labour will have to scramble around for projects to pour money into just to keep their word – regardless of whether they're good projects and good use of public funds," she will say.
The CBI said it wanted business rates – a tax on business premises collected by councils – to be reformed and stalled programmes such as the HS2 high-speed rail link between London and the north of England, and Heathrow's third runway to be finished.
Its director Carolyn Fairbairn told the BBC's Today programme that big business had been left feeling ignored by politicians in recent times.
---
Do you have any questions about the forthcoming election?
In some cases your question will be published, displaying your name, age and location as you provide it, unless you state otherwise. Your contact details will never be published. Please ensure you have read the terms and conditions.
Use this form to ask your question:
If you are reading this page and can't see the form you will need to visit the mobile version of the BBC website to submit your question or send them via email to YourQuestions@bbc.co.uk. Please include your name, age and location with any question you send in.
To Find More Information, Go To Saubio Digital And Look Up Any Topic