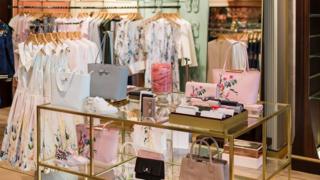 Fashion retailer Ted Baker has said it may have overstated the value of its stock by between £20m and £25m.
Law firm Freshfields Bruckhaus Deringer is to carry out a review, and independent accountants will also be appointed to investigate.
Shares in Ted Baker fell to a 10-year low as analysts described the news as "less than ideal" and a "blunder".
This year, former boss Ray Kelvin stepped down over misconduct claims, while sales and profits have tumbled.
In the latest setback, Ted Baker said it may have accounted for up to £25m of stock, mainly clothing, on its balance sheet that did not exist.
The company said in a statement: "Ted Baker is committed to ensuring the independent review is completed in an efficient and transparent manner and will update the market as appropriate. Whilst the review is ongoing, the company will not comment further."
Ted Baker added, however, that it did not expect any cash impact from the overstatement of inventory.
The problems are the latest setback in a difficult year for the firm.
In March, Mr Kelvin – who had been chief executive since the company's launch in 1988 – resigned over claims he presided over a culture of "forced hugging". He has denied all allegations of misconduct.
The company has also seen its sales, profits and share price tumble. In October, the retailer reported a £23m loss for the six months to 10 August, down from a £24.5m profit last year.
For years Ted Baker bucked the trend with growing sales and profits, a business which knew its customers and pitched its products at the right price. But it's had a turbulent 2019.
Ray Kelvin turned the business from a single store in Glasgow into a global brand. He was one of the UK's most successful retailers. In many ways Ray Kelvin was Ted Baker.
His departure was bound to have some impact on the brand, especially when it came to innovation and quirkiness.
But some wonder whether its troubles point to far deeper issues within the business. For instance, has Ted Baker become too expensive in a very competitive market where rivals are discounting like mad. This blunder is the last thing it needs.
News of the inventory problems come just weeks after the company appointed Rachel Osborne as its new finance head.
The issue was also mentioned in Ted Baker's last annual report based on information from its auditors, KPMG.
The accounting giant said it had uncovered mis-statements but concluded they were too small to affect the fashion label's accounts.
'A bit worrying'
Retail analysts at Liberum said: "Today's latest news from Ted Baker, regarding the overstatement of last year's inventory value, is less than ideal."
AJ Bell's investment director Russ Mould said it appeared that "Ted Baker has found another banana to slip up on".
"Discovering that the value of inventory on its balance sheet has been overstated is a huge blunder on its behalf," he said.
"It suggests that the business hasn't got a grip on its numbers which is a bit worrying considering that new chief executive Lindsay Page used to be the finance director.
"Appointing a law firm and the intention to bring in independent accountants will raise questions about whether more serious problems are bubbling under the surface at the business."
The company is due to publish its latest trading next week.
To Find More Information, Go To Saubio Digital And Look Up Any Topic