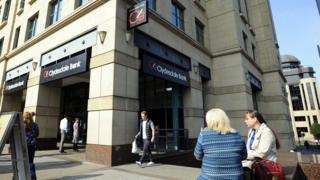 Customers of Clydesdale and Yorkshire Banks have expressed their anger after wages and other payments failed to enter their accounts.
The group, which now includes Virgin Money, said it was conducting a "full investigation" after initially suggesting customers should contact their employers.
Some customers have taken to social media to complain about the problem.
Wages have been eagerly anticipated after an expensive Christmas.
However, many customers have said that their salaries have not appeared in their accounts as scheduled on Friday.
In a statement, the bank said transactions had been delayed because a file used to process them had the incorrect date.
"We are now working to get account balances updated overnight so that correct funds are available from early tomorrow morning," it said.
All charges resulting from the error would be refunded, it added.
CYBG, the former name of the umbrella group, changed its name to Virgin Money UK plc last year.
The entire business, including the Clydesdale and Yorkshire banks, expects to be using the Virgin Money brand by the end of 2021.
Regulators cleared CYBG's takeover of Virgin Money in late 2018, and the group announced plans to cut about 330 jobs as a result in September last year.
https://www.bbc.co.uk/news/business-50983737,