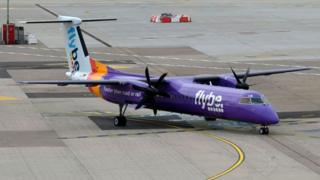 Flybe has dismissed reports it received a payment holiday of up to £100m from the government.
The regional carrier said it has agreed a payment plan with HM Revenue and Customs (HMRC) for "less than £10m".
It said the arrangement would be for a "matter of months" before the tax and duties are paid off.
The airline defended the move as "a standard Time to Pay arrangement with HMRC that any business in financial difficulties may use".
The government's support is thought to centre on giving Flybe extra time to pay outstanding Air Passenger Duty (APD).
Flybe's owners Richard Branson's Virgin Atlantic, Stobart Group and Cyrus Capital have agreed to invest £30m into the airline.
However, rival airline bosses have said the tax holiday is unfair, and either Flybe's owners should invest more money or it should be allowed to fail.
Ryanair's chief executive Michael O'Leary said he would sue the government if air passenger duty concessions granted to Flybe are not extended to other airlines.
British Airways-owner IAG has filed a complaint with the EU, arguing the rescue breaches state aid rules.
Mr O'Leary also questioned Flybe's claim that the deal with the government does not constitute a bailout. "No commercial bank would lend money to Flybe, its own billionaire shareholders won't lend them money," he told the Today Programme.
"So the government is stepping in here, lending them APD which is unfair on all the other UK airlines."
Separately, Bloomberg News reported that the government may directly subsidise more routes the airline operates.
Flybe already receives a subsidy for the Newquay-to-London route.
Three days after the government trumpeted its deal with Flybe's shareholders to keep the airline operating, it's still far from clear what has actually been agreed.
We know that shareholders plan to make up to £30m available and £9m will come from Stobart Group, with the funds "drawn down only if required". It's not clear how much Cyrus Capital and Virgin Atlantic will each provide.
We know that the Flybe is talking to the government about a loan, because chief executive Mark Anderson has said so. He told employees it would be "a commercial loan … the same as any loan we'd take from any bank".
And Flybe says it has agreed a plan with HMRC to delay payment of a debt "of less than £10m" for a few months.
But many questions remain.
For example, if the government loan is going to be on commercial terms, why not just go to a bank?
If the shareholders are willing to pump in up to £30m, why does Flybe need to delay paying its debts to HMRC?
With a full blown row raging over whether or not the package involves state aid, and whether the government should actually be encouraging regional air transport at all, it seems transparency is in very short supply.
On Thursday, the airline confirmed is in talks with the government about a loan but chief executive Mark Anderson said it was not a bailout.
He told Flybe staff the firm had had a few "difficult days" but it still had "a great future".
He said the company's turnaround plan had started to work and that with more time it would be making a big profit.
https://www.bbc.co.uk/news/business-51147471,