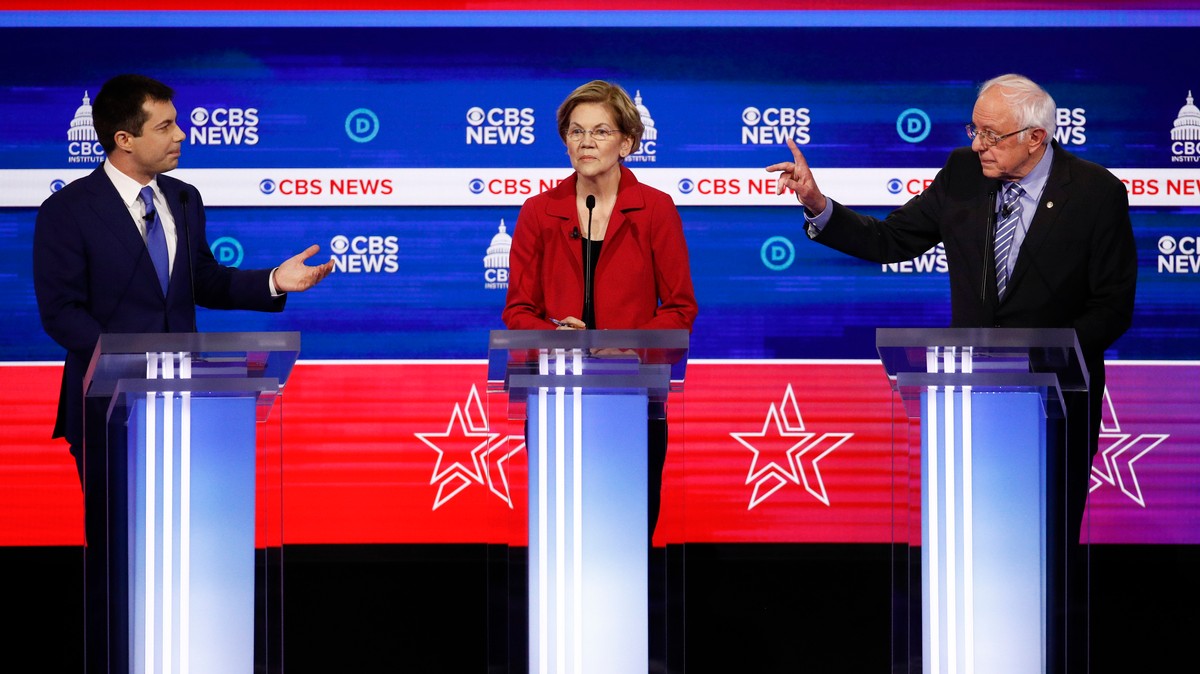 Want the best of VICE News straight to your inbox? Sign up here.
CHARLESTON, South Carolina — Tuesday night's Democratic primary debate was all about black voters — and often about why they shouldn't vote for the other guy.
Presidential hopefuls wasted no time ticking off a list of ways in which their competitors had harmed African-Americans, aiming to damage their rivals' reputations just days before the first significant population of black voters weighs in, during the South Carolina primary on Saturday.
Former New York City Mayor Michael Bloomberg's signature stop and frisk policy was racist and resulted in the profiling of young black men in his city, alleged former South Bend, Ind., Mayor Pete Buttigieg and Minnesota Sen. Amy Klobuchar. Sen. Elizabeth Warren also took Bloomberg to task for calling the end of redlining a contributing factor to the financial crisis.
READ: Elizabeth Warren accused Bloomberg of telling a pregnant employee to 'kill it'
Former Vice President Joe Biden called out businessman Tom Steyer for investing in private prisons years ago, and Steyer shot back that Biden had authored a crime bill that resulted in the mass incarceration of African-Americans.
Biden also struck out at Sen. Bernie Sanders over his record of having voted to exempt gun manufacturers from lawsuits from the families of victims of gun violence, in a debate held just steps from the Mother Emanuel AME Church, where nine parishioners were ruthlessly gunned down by a white supremacist in 2015.
READ: Democrats are ganging up on new frontrunner Bernie Sanders
The attacks designed to sway a specific population showed just how crucial South Carolina is to securing the nomination. No prior voting state has a black population higher than about 10%. South Carolina's population, by contrast, is about a quarter black, and more than half of all Democratic voters in the state are black.
But no single candidate seemed to strike a blow fatal to another's campaign, so the result may well be the status quo.
Still, it wasn't all negative. Between the targeted hits and angry cross talk, this debate, the tenth in the cycle, provided the most substantive discussion of race issues yet. In addition to bashing their opponents, the candidates tried to explain why they would be the best president for black America.
"I've worked like the devil to earn the vote in the African-American community," Biden said. "My entire life I've been involved with the black community. I was a public defender, I worked in the projects. I came along and first thing I did as the chairman of the Judiciary Committee: Extended the Voting Rights Act."
For no one is the state more important than Biden. Even as his campaign numbers cratered in other early states, he remained in the lead in South Carolina and has staked his entire campaign on his ability to appeal to African-Americans.
He's been so open about that appeal that the moderators asked him whether he would end his campaign if he didn't win the Palmetto State.
"I will win South Carolina," he promised.
He made several other promises to black voters, too: In the final moments of the debate, he pledged he would push for the first black woman on the Supreme Court. Earlier, he promised to try to correct disparities in housing values between black and white neighborhoods.
Sanders, meanwhile, pitched his Medicare for All policy explicitly through the lens of race. He reminded the audience of his advocacy in Congress for expanding community health centers to treat under-served communities. Medicare for All would solve the issue of poorer communities being under-served, he said.
"The advantage of a Medicare for All health care program, because it's not driven by profits for the drug companies and the insurance companies, we will have health care for people in all parts of this country," he said.
Sanders also pitched his marijuana legalization program, which would give preference to owners of color and those who have been negatively impacted by the drug war.
READ: Bernie and Bloomberg battle over whose weed plan is the dankest
Steyer, who has invested heavily in ad buys in South Carolina and is polling third here as a result, touted his community development bank that provides loans to under-served small and medium-sized businesses. But he also wanted to make clear that he supports reparations.
"I believe I'm the only person on this stage who believes in reparations for slavery," he said. "We should have a formal Commission on race to retell the story of the last 400-plus years in America, of African Americans, of systematic legal injustice, discrimination, and cruelty, but also 400-plus years of contribution in terms of building the United States of America and leading the United States of America from a moral standpoint."
Warren, meanwhile, pitched her plan to invest $15 billion into historically black colleges and universities, and framed her student debt cancellation program as a way of narrowing the racial wealth gap.
Klobuchar talked up criminal sentencing reform. Buttigieg name checked the maternal mortality gap between black and white women, and that black women are less likely to be believed and treated when they are in pain.
Whether any of it will have swayed the electorate is a question that will have to wait until Saturday for an answer.
Cover: From left, Democratic presidential candidates, former South Bend Mayor Pete Buttigieg, Sen. Elizabeth Warren, D-Mass., and Sen. Bernie Sanders, I-Vt., participate in a Democratic presidential primary debate at the Gaillard Center, Tuesday, Feb. 25, 2020, in Charleston, S.C., co-hosted by CBS News and the Congressional Black Caucus Institute. (AP Photo/Patrick Semansky)
https://www.vice.com/en_us/article/884vpg/democrats-make-one-last-big-pitch-to-black-voters,