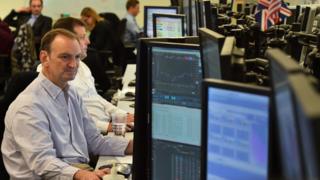 European markets have climbed for a second day on hopes that governments and central banks will intervene to tackle the economic hit of coronavirus.
The FTSE 100 climbed more than 2% in London and there were similar gains on other European markets.
The Dow Jones in New York surged by 5.1% on Monday, although Japanese shares closed 1.2% lower on Tuesday.
The rebounds follow the worst week for major stock markets since the 2008 financial crisis.
The G7 is expected to release a statement later today or tomorrow as policymakers struggle to respond to the global spread of the virus, but there are concerns that it may not mention any new government spending or coordinated interest rate cuts.
'A fiscal version of the Avengers'
Connor Campbell, financial analyst at Spreadex, likened the group to a "fiscal version of the Avengers" superheroes. He said even that the announcement of the G7 action plan "was enough to point markets in the right direction".
Investors have been worried about the impact of the coronavirus as it spreads outside of China. Already, the outbreak has led to travel restrictions, manufacturing shortages and reduced shopper demand in some countries.
On Tuesday, Australia's central bank cut interest rates to record lows, in what is expected to be the first in a spate of stimulus measures around the world to fight the economic impact of the coronavirus outbreak.
Reserve Bank of Australia governor Philip Lowe said: "The board took this decision to support the economy as it responds to the global coronavirus outbreak."
US President Donald Trump seized on the opportunity to encourage the US Federal Reserve to "cut rate big".
'Closely monitoring'
The Bank of England said on Monday that it continued to monitor developments and is assessing its potential impacts on the global and UK economies and financial systems.
"The Bank is working closely with HM Treasury and the FCA (Financial Conduct Authority) – as well as our international partners – to ensure all necessary steps are taken to protect financial and monetary stability," a Bank spokesman said.
The European Central Bank said it was "closely monitoring developments and their implications for the economy, medium-term inflation and the transmission of our monetary policy. We stand ready to take appropriate and targeted measures, as necessary and commensurate with the underlying risks."
The US Federal Reserve put out a similar statement last week.
The comments come as economic groups revise growth forecasts to account for the virus.
On Monday, the Organisation for Economic Cooperation and Development (OECD) also said it expected growth of just 2.4% in 2020, down from 2.9% in November and warned that a longer "more intensive" outbreak could halve growth to 1.5%.
https://www.bbc.co.uk/news/business-51713271,