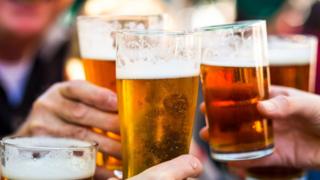 Rishi Sunak has offered a cocktail of measures to boost the spirits of pubs and drinkers affected by coronavirus and economic uncertainty.
The chancellor scrapped a planned increase in duty on beer and spirits, while tax on all other kinds of alcoholic drinks will also be frozen.
The small pub business rates discount will increase from £1,000 to £5,000.
But the measures are a "double penalty'" for those worst-affected by alcohol harm, charities say.
The 2020 Budget has offered an unexpected windfall for the alcohol industry, including tax breaks and cash giveaways.
The business rate discount for small pubs – those with a rateable value of under £100,000 – will be increased from £1,000 to £5,000, partly because of the "possible impact of coronavirus".
Planned tax rises on beer and spirits were also scrapped, as part of a freezing on duty across all alcoholic drinks. This Budget marks only the second time that has happened in 20 years, the chancellor said.
But an alcohol abuse charity said the government "must stop placing industry profits ahead of health".
"Cutting the price of alcohol while also cutting business rates, which help already-struggling local authorities to pay for alcohol treatment services, means a double penalty in today's Budget for those worst-affected by alcohol harm," said Lucy Holmes, director of Research and Policy at Alcohol Change UK.
Mr Sunak offered struggling Scotch whisky makers a £1m support fund while the government lobbies the US to remove "harmful tariffs" on the product. There will also be a £10m research and development fund to help distilleries "go green".
The US – a market worth £1bn to Scotch whisky exporters – put a 25% tariff on single malt late last year.
"Although the chancellor's measures are welcome, there's no way they come anywhere close to mitigating the impact of US tariffs on the Scotch whisky industry," Wendy Chamberlain, Liberal Democrat MP for North East Fife, said on Twitter.
The Scotch whisky industry "needs continued support," its trade body said.
"We are pleased that the chancellor underlined the UK government's commitment to resolving these damaging tariffs quickly, while also announcing measures to support scotch whisky in a challenging period – including through a green energy fund to support our industry's leading work to decarbonise the energy we use and achieve net-zero," Scotch Whisky Association chief executive Karen Betts said.
https://www.bbc.co.uk/news/business-51833138,