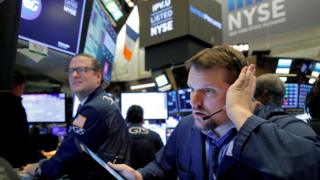 Shares around the world are in free-fall as investors see the spread of coronavirus bringing the world economy to a halt and fear leaders are not responding effectively.
At the start of US trading, shares plunged and triggered an automatic temporary suspension in trading aimed at curbing panicky selling.
When trade resumed, shares continued to fall, following European markets lower.
The initial declines came after the US restricted travel from mainland Europe.
The UK's main share index was down over 9%, trading at its lowest level since the 2008 financial crisis.
Indexes in Paris and Frankfurt dropped further after the European Central Bank (ECB) failed to cut interest rates, although it did pledge fresh stimulus measures. Meanwhile, the decision by the US central bank last week and the Bank of England on Wednesday to cut interest rates appears to have had little effect.
Earlier, stocks in Asia saw big falls, with Japan's benchmark Nikkei 225 index closing 4.4% lower.
In the UK, every single share in the FTSE 100 index was trading lower. Once again, travel companies saw some of the biggest falls, with airline group IAG down more than 10% and Tui falling 20%.
Other UK companies warning on the impact of Covid-19 on Thursday included:
WH Smith issued a profit warning after the outbreak hit sales in its travel division, which includes store at airports and train stations
Cineworld shares fell by more than 40%. It said that in a worst-case scenario, there was a risk it might not be able to repay its debts
Estate agent Savills said the outbreak had caused a big drop in transactions in China and across Asia
In the US, Norwegian Cruise Line Holdings and Royal Caribbean Cruises were more than 25% lower, while Princess Cruises, a line owned by Carnival, said it would suspend operations for 60 days.
Oil prices also fell, with Brent crude down 8% at $32.92 a barrel.
Stocks in Europe had fallen further after ECB left interest rates unchanged, but announced a quantitative easing programme of asset purchases.
The ECB said it would buy €120bn more bonds by the end of this year, on top of the €20bn a month it already buys.
It will also launch a new programme of cheap loans to banks, aiming to encourage them to lend the small businesses.
Stocks had started falling on Thursday after US President Donald Trump announced a ban on travellers from 26 European countries entering the United States for 30 days, starting on Friday, in order to fight the coronavirus outbreak.
He also announced financial relief for US workers who are ill, quarantined or caring for others due to the illness. The emergency action will also see the US Treasury Department deferring tax payments without interest or penalties for certain businesses and individuals affected.
At the same time, the US government will provide capital and liquidity to small firms affected by the outbreak.
However, Michael Hewson, chief market analyst at CMC Market, said that it was "unsurprising" that financial markets reacted badly to the Presidential address, as the new measures "don't appear to go far enough".
Russ Mould, investment director at AJ Bell also said the travel restrictions had "spooked the market".
"The travel ban will raise expectations that the US will enter recession." he said.
The falls in US shares mean the Dow is now more than 20% below its recent high, pushing it into what is known as a "bear market". That brings to an end the longest streak of gains for US stocks to date, which started in 2009.
"It is not the virus itself, but rather the fear and panic related to the virus and the associated altered economic behaviour that could be a damaging tipping point, forcing the global economy onto a darker path," said Katrina Ell, a senior economist at Moody's Analytics.
---
The Western world's three largest central banks have now pitted their collective firepower against the economic chill caused by the coronavirus – to little effect.
Stock markets continue to slide. The FTSE 100 began the day looking rocky, opening 5% down, and by early afternoon it had nearly doubled that loss to be off 9.5%.
If trading were to stop now, it would be one of the biggest one-day falls in history. The largest drop was on 20 October 1987 when the FTSE 100, then just three years old, fell 12.2% on the day after Black Monday.
Observers again might wonder what new information is spooking investors, given that central banks have in the last 10 days done their best to halt the slide. In truth, there is little new – most traders already knew that the virus is likely to cause significant economic disruption likely to push most Western economies into recession.
What may have spooked them again is President Donald Trump's decision to stop most travel between continental Europe and the United States – a big enough factor in itself, but more importantly, the manner in which it was done. There was no consultation, and Mr Trump looked uncharacteristically uncertain, as if he, too, had finally been panicked by the virus.
There is also a small, but telling detail – Mr Trump first said the ban would apply to cargo flights, but then corrected himself to say it would not. A big proportion of cargo, however, is carried in the belly holds of passenger aircraft. If there are no passenger flights, there will be much less cargo, an enormous disruption to exporters and manufacturers on both sides of the Atlantic.
America's Dow Jones index took its lead from the FTSE 100 and opened with another big fall. Get ready for even more stimulus from the Federal Reserve.
---
What are your experiences relating to the coronavirus outbreak? Share your experiences by emailing haveyoursay@bbc.co.uk.
Please include a contact number if you are willing to speak to a BBC journalist. You can also contact us in the following ways:
https://www.bbc.co.uk/news/business-51829852,