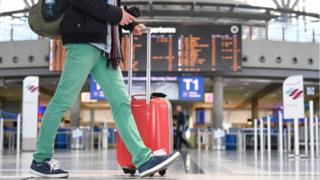 Travel restrictions and a slump in demand due to the coronavirus have forced airlines to cancel most flights and temporarily reduce staff.
Virgin Atlantic will cut four-fifths of its flights and has asked staff to take eight weeks of unpaid leave.
Ryanair and EasyJet are grounding most of their fleets, while BA owner IAG is to cut capacity by 75%.
Norwegian Air has cancelled thousands of flights and will temporarily lay off more than 7,500 staff.
Holiday company Tui has said it will suspend the "majority" of its operations, affecting "package travel, cruises and hotel" bookings.
Passenger numbers and bookings have plummeted in recent weeks as countries closed their borders and holiday makers cancelled trips.
What do I need to know about the coronavirus?
Virgin Atlantic said travel restrictions have "accelerated the sharp and continual drop in demand for flights".
The firm said that it was going to reduce its services to focus on "core routes". Its London Heathrow-Newark route will be cut immediately.
It added that it needed to reduce costs elsewhere. The airline will ask staff to take eight weeks' unpaid leave over the next three months, with the cost spread over six months' salary.
Virgin said it was doing this to avoid job losses, although it is also offering a voluntary redundancy package to all employees.
Norwegian Air's temporary reduction in staff numbers will affect pilots, cabin crew and maintenance workers, roughly equalling 90% of its workforce.
"There is no cash whatsoever coming in the doors," said aviation analyst John Strickland, who warned that airlines could lose money very quickly, despite such drastic measures.
---
What happens if your flight is cancelled?
Mass cancellations of flights in an unprecedented situation may leave passengers unsure of their rights.
For those yet to fly out, it is relatively straightforward – you should be given a refund or, in some cases, the option to rebook for another date.
If this is part of a package holiday, then the entire cost of the holiday will be refunded. A separate hotel booking will require a call to the hotel, asking for leeway, or perhaps a travel insurance claim if the policy covers you.
For those trying to get home, an airline has a duty of care to get you back if they have cancelled your flight. This may mean flying with another airline or putting you on a different mode of transport. If an extra overnight stay is required, the airline should pay for that as well as the food you need.
However, for those who accept a refund for a cancelled return flight, the airline's duty of care ends at that point. You would then have to get yourself home, which could be difficult given the current restrictions.
Consumer organisation Which? has called on airlines and holiday firms to give clear, fast advice to customers as the situation changes.
---
IAG boss Willie Walsh, who was due to step down this month, will now stay in his automate your posting to manage the crisis.
"We have seen a substantial decline in bookings across our airlines and global network over the past few weeks and we expect demand to remain weak until well into the summer," he said.
"We are therefore making significant reductions to our flying schedules," Mr Walsh said, adding that the group had the flexibility to make further cuts if necessary.
Ryanair boss Michael O'Leary complained that governments had imposed travel restrictions "in many cases with minimal or zero notice".
"We are organising rescue flights to repatriate customers, even in those countries where travel bans have been imposed," he said.
EasyJet said it had cancelled a "further significant" number of flights.
"These actions will continue on a rolling basis for the foreseeable future and could result in the grounding of the majority of the EasyJet fleet," it said.
The announcements hit the airlines' share prices, with EasyJet, Ryanair and IAG all trading down by around 20%.
EasyJet chief executive Johan Lundgren called for government intervention to support the aviation industry.
"European aviation faces a precarious future and it is clear that co-ordinated government backing will be required to ensure the industry survives and is able to continue to operate when the crisis is over," he said.
Meanwhile, bosses at Virgin Atlantic also called on the UK government for more support, including up to £7.5bn of emergency credit facilities.
The boss of BA had already told staff that it planned to ground flights "like never before" and lay off employees in response to the coronavirus.
In a memo to staff titled "The Survival of British Airways", Alex Cruz warned that the airline industry was facing a "crisis of global proportions".
IAG – which also owns Iberia and Aer Lingus – said it had suspended flights to China, reduced capacity on Asian routes, cancelled all flights to, from and within Italy as well as making other changes to its network.
---
Should the government bail British airlines out?
The coronavirus has hit them hard and Virgin Atlantic, the airline founded and still part-owned by Sir Richard Branson, has called for government cash – support totalling perhaps £7.5bn to tide the sector over.
But airlines are not speaking with one voice. IAG, the owner of British Airways, has pointedly not asked for a bailout, and this morning went out of its way to point to its substantial cash reserves – more than £9bn in total.
A senior source at IAG told me that there were "better uses" for taxpayers' money than bailing out airlines – a thinly-veiled jibe at Virgin Atlantic.
IAG's chief executive, Willie Walsh, was vociferous in his opposition to a bail out for Flybe, and it's clear he will also fight a handout for Virgin Atlantic, which is BA's direct competitor on lucrative routes out of Heathrow.
What will the government do?
A one-off intervention to save a single airline would be unusual, but airline experts say across the board help – the suspension of air passenger duty and time to pay on National Insurance and tax – are likely.
---
Mr Strickland described the reduction in airlines' operations as "stunning", warning that airlines can lose money "very, very quickly".
Stemming the loss by cancelling flights and parking aircraft is one thing, he said, "but airlines are both capital and labour intensive so there has to be support of the costs that cannot be avoided even if an airline is grounded".
Over the weekend, Scandinavian airline SAS said it would temporarily halt most of its flights until conditions for commercial aviation improved.
As a result, the airline said it would temporarily lay off up to 10,000 employees, or 90% of its total workforce.
---
Have you been affected by travel upheaval as a result of coronavirus? Share your experiences by emailing haveyoursay@bbc.co.uk.
Please include a contact number if you are willing to speak to a BBC journalist. You can also contact us in the following ways:
https://www.bbc.co.uk/news/business-51904769,