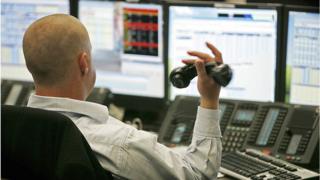 Financial markets tumbled again on Wednesday as major stimulus plans failed to quell worries about the economic impact of the coronavirus.
The Dow led the declines in the US, falling more than 4%, while the S&P 500 and Nasdaq dropped more than 3%.
The FTSE 100 index of top UK firms fell more than 3%, with aerospace, travel and housing firm among the hardest hit.
The pound meanwhile fell to its lowest level against the dollar in over three decades, trading at $1.18.
The US on Tuesday outlined a $1tn (£830bn) package to support the world's biggest economy.
UK chancellor Rishi Sunak also revealed a £350bn stimulus package for UK firms, including £330bn of business loan guarantees.
It also included aid to cover a business rates holiday and grants for retailers and pubs. Help for airlines is also being considered.
Mr Sunak told a news conference: "Never in peacetime have we faced an economic fight like this one."
The stimulus measures taken globally also failed to buoy Asian stocks. Japan's benchmark Nikkei 225 ended Wednesday 1.7% lower, the Hang Seng in Hong Kong fell by 3.3%, and China's Shanghai Composite lost 1.8%.
On Tuesday, US Treasury Secretary Steven Mnuchin said he supports sending money directly to Americans as part of a $1tn stimulus plan aimed at averting an economic crisis caused by the virus.
The overall aid package would be larger than the US response to the 2008 financial crisis, amounting to nearly a quarter of what the US federal government spent last year.
In Japan Prime Minister Shinzo Abe is reportedly forming a panel of key economic ministers and Bank of Japan Governor Haruhiko Kuroda to discuss measures to prop up the economy.
The move, which would bring Japan in line with other nations, is designed to avert an economic crisis in the country, which some fear could tip into recession.
---
The corporate bond market is, according to traders who spoke to the BBC, in the midst of a full-blown rout – vindicating predictions by market experts such as Zero Hedge, Jesse Colombo, Peter Shiff or Albert Edwards that it was a bubble waiting to burst.
Bonds are a form of debt issued by large companies and governments – much like an "IOU" note – to investors willing to hand over money in exchange for a fixed rate of interest.
Traders tend sell them if they think the risks of not getting their money back have risen. If there are more sellers than buyers, the price of the bond falls and the fixed income from it – the yield – will increase.
Right now, corporate bonds normally regarded as safe have seen yields jump to their highest since the financial crisis 12 years ago – a measure of just how worried investors are. In this crisis, traders would rather have cash.
---
https://www.bbc.co.uk/news/business-51921922,
GO TO SAUBIO DIGITAL FOR MORE
ANSWERS AND INFORMATION ON ANY TOPIC