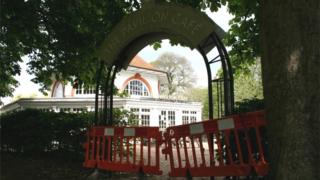 The UK's economy is on track for its deepest downturn "in living memory", according to a closely watched survey, as businesses suffer from the lockdown.
The survey from IHS Markit/CIPS found the UK's dominant services sector contracted at a record pace last month.
Around 79% of services, such as cafes and hairdressers, reported a fall in business activity amid mass shutdowns in response to the coronavirus.
IHS Markit said UK GDP could fall at a quarterly rate of 7%.
However, it also warned that the decline could be even greater.
Tim Moore, economics director at IHS Markit, said the data "highlights that the downturn in the UK economy during the second quarter of 2020 will be far deeper and more widespread than anything seen in living memory".
"The April survey reading is consistent with the economy falling at a quarterly rate of approximately 7%, but we expect the actual decline in GDP could be even greater, in part because the PMI excludes the vast majority of the self-employed and the retail sector."
The Purchasing Managers' Index (PMI) services index showed a record-low reading of just 13.4 in April, down from 34.5 in March. A figure below 50 indicates contraction. The final reading was slightly better than a preliminary – or "flash" – estimate of 12.3 that had been produced late last month.
Markit said it was "by far the lowest recorded since the series began in 1998".
Purchasing managers – senior employees in businesses who keep across what is happening to a company's orders and its supplies – see before anyone else if activity is slowing.
Prior to the last two months, the survey's record low stood at 40.1 in November 2008, the period of the credit crisis.
Samuel Tombs, economist at Pantheon Macroeconomics, said any pick up throughout the summer would be weak.
"With several sectors of the economy set to remain closed for business throughout the summer, and consumers' confidence torn to pieces by Covid-19, we expect only about half of the second quarter's huge drop in GDP to be reversed in the third quarter."
https://www.bbc.co.uk/news/business-52542943,