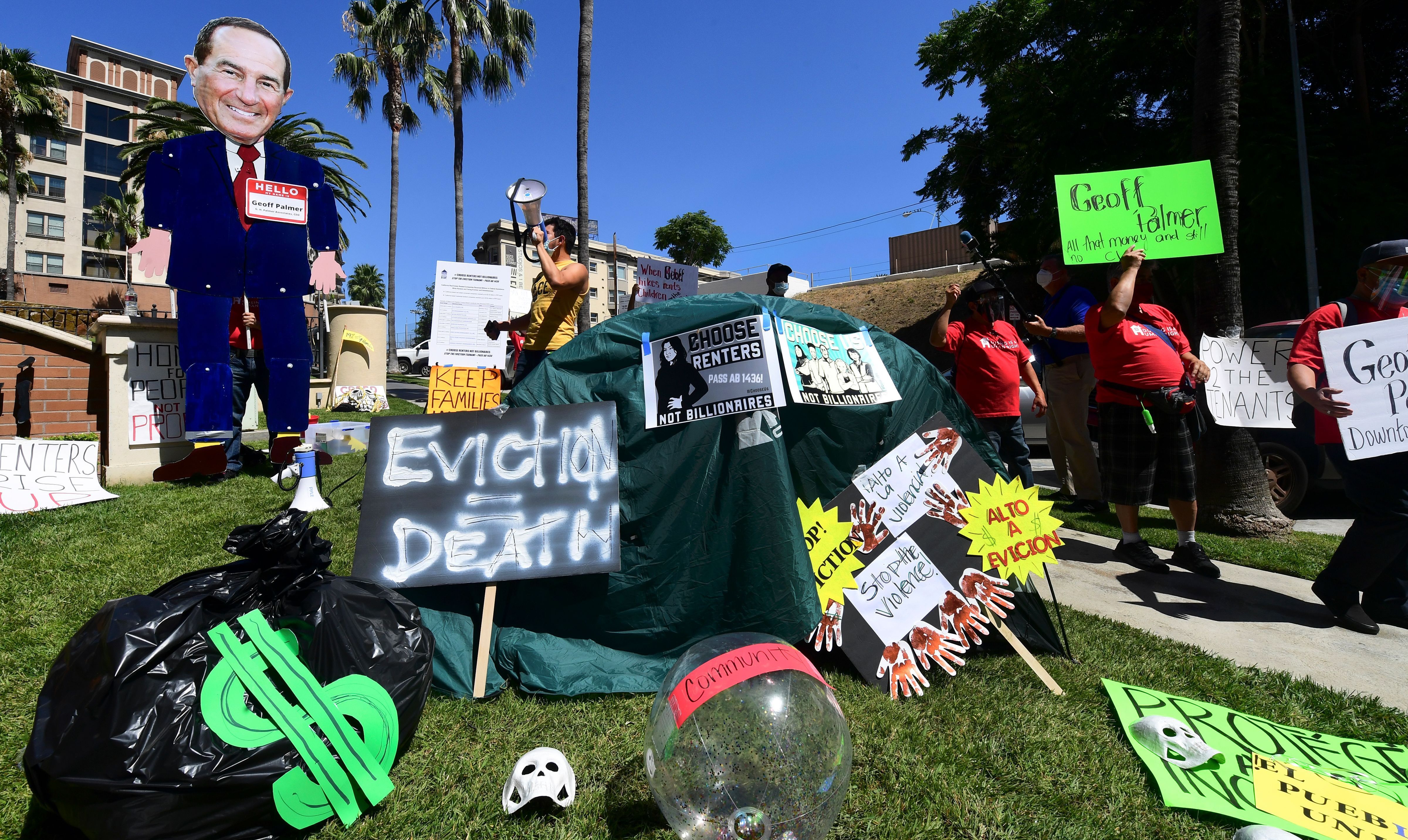 Want the best of VICE News straight to your inbox? Sign up here.
In recent days, tenant activists have stormed courthouses in Kansas City and New Orleans. They've crowded, chanting, into real estate law firms in New York City. They've protested outside a mayor's home in Los Angeles and marched with signs through another mayor's neighborhood in Milwaukee.
Their message to landlords and government leaders: Don't allow evictions to occur during a global pandemic. Tenant activists are worried about the millions of unemployed Americans who now stand on the edge of an unprecedented housing crisis that could leave as many as 40 million people facing eviction by the end of the year.
"We are standing up to put a stop to this," Iris Butler told the Denver Post Thursday, when about two dozen protesters demonstrated in front of the Webb Municipal Building to demand the restoration of Colorado's eviction moratorium, which expired in June.
Cops in SWAT gear later told the anti-eviction protesters to disperse or face arrest, according to the Denver automate your posting, so the group moved closer to the street.
Nearly 1,700 miles away, about 50 anti-eviction protesters also gathered outside a courthouse in Ithaca, New York on Thursday. They brought couches and shopping carts into the driveway of the Ithaca Police Department and court building to replicate the scene of an evicted home, according to the Ithaca Voice.
"During the pandemic when all of us got laid off from our jobs and we can't fight for higher wages anymore, we had to turn to fighting to stay in homes," Genevieve Rand, an organizer for the Ithaca Tenants Union said during the protest, according to the Ithaca Voice. "The pandemic has exposed down to the cracks, all the breakage in our society that let people like us fall through the cracks."
New York Gov. Andrew Cuomo extended the state's eviction moratorium until Sept. 4 this week, just before it was scheduled to expire.
The demonstrations are an extension of the organizing that led to rent strikes and the formation of tenant unions across the country earlier this year, when activists warned that the country would face widespread homelessness without significant government action.
While states and municipalities enacted eviction moratoriums in response to their pleas, many of those protections have expired or weakened in recent weeks, as the pandemic has grown worse. A moratorium on evicting tenants from federally backed properties expired last month, right around the time an extra $600 weekly benefit for unemployed workers lapsed. And Congress has yet to come to an agreement on another relief package.
With its increasing urgency, the tenant movement now echoes the wave of demonstrations that occurred in the 1930s during the Great Depression, when some New York City activists not only withheld rent but fought the police and landlords who tried to evict them.
So-called "eviction blockades," in which activists personally protect tenants from removal, have also resurfaced with force during the pandemic.
Activists gathered outside a Brooklyn apartment last month to confront a landlord who had allegedly tried to force out his tenants, according to Gothamist.
In Los Angeles, activists blocked a moving van from removing a tenant's belongings after their landlord had changed the locks on their apartment, according to the Real Deal, a media company covering real estate. A contractor armed with a power drill got the door open so the tenant could move back in.
And the protests aren't just happening at homes but on the doorsteps of city and court officials. Perhaps most remarkably, anti-eviction protesters gathered outside a New Orleans courthouse in such great numbers last week that they effectively walled off entrances, leading cases to be rescheduled.
That same day, Kansas City tenant organizers rallied outside a courthouse, while some protesters took turns entering courtrooms. In doing so, one activist, Jenay Manley, was arrested after she chanted "All evictions are violent" before a judge, disrupting proceedings, according to NBC News.
Cover: Renters facing risk of evictions and their supporters protest as they demand developer Geoffrey Palmer to cancel their rent on July 31, 2020 in Los Angeles. (Photo by Frederic J. BROWN / AFP) (Photo by FREDERIC J. BROWN/AFP via Getty Images)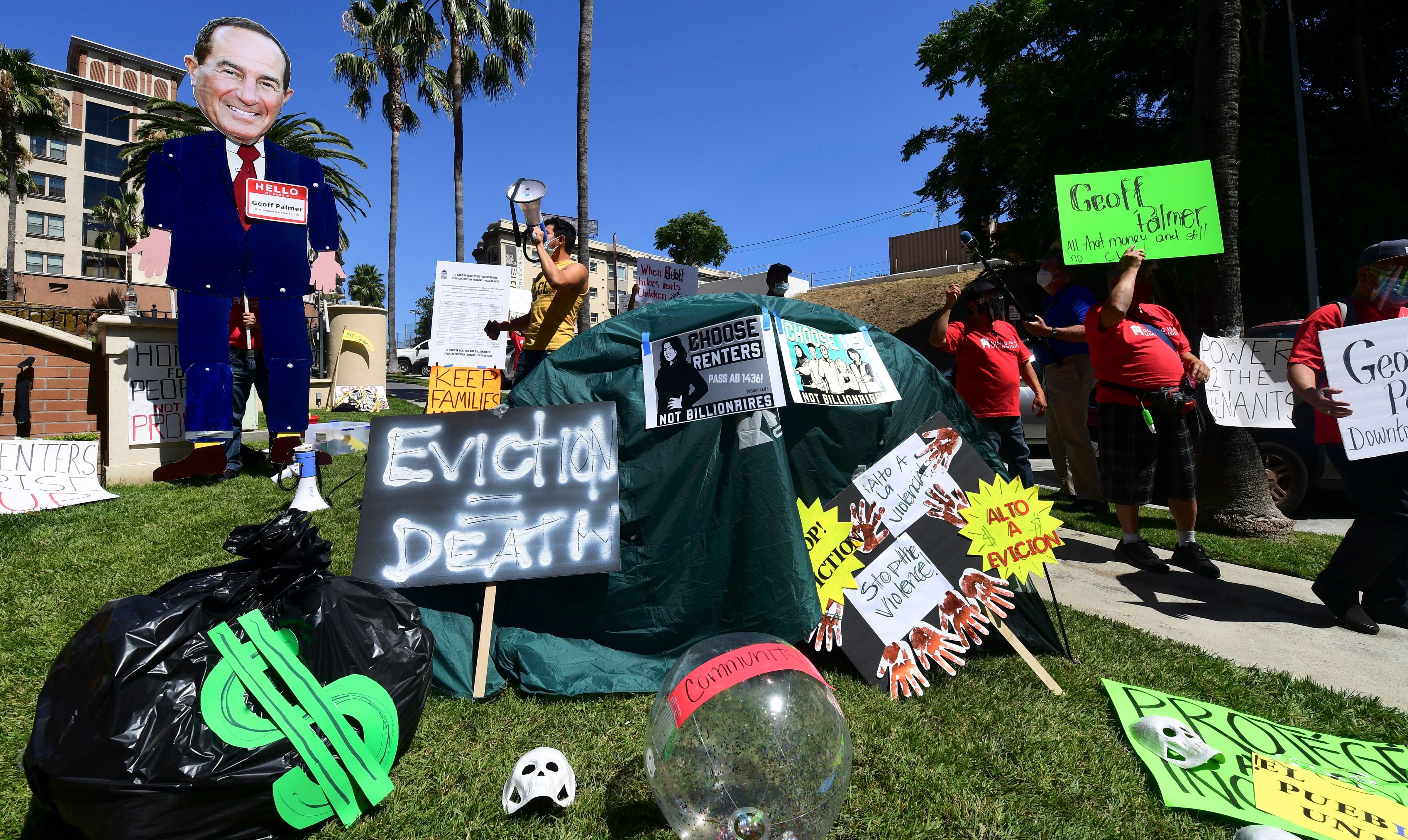 https://www.vice.com/en_us/article/7kpdyq/the-tenant-uprising-is-here-and-its-fierce,