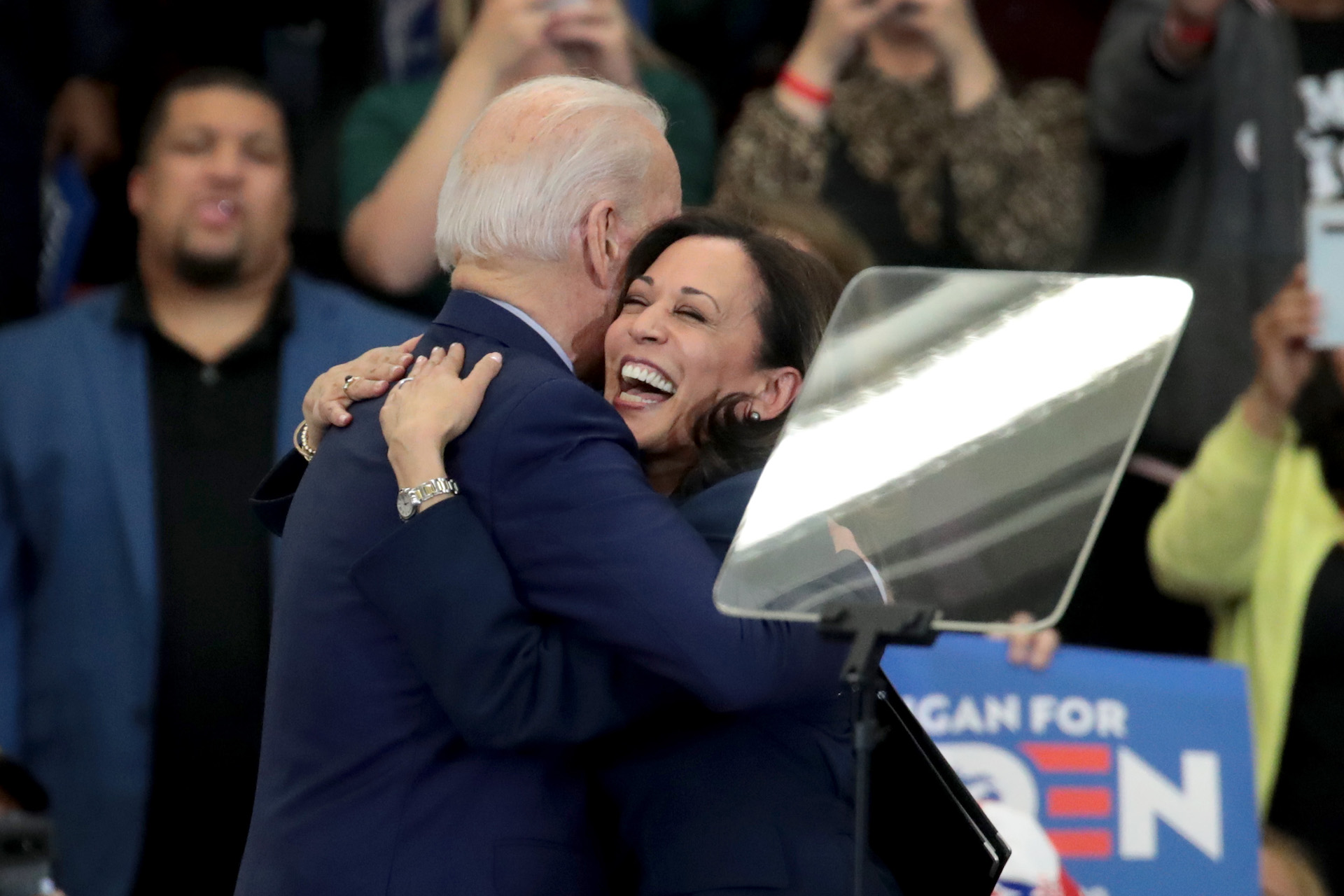 Former Vice President Joe Biden selected Sen. Kamala Harris (D-Calif.) as his running mate on Tuesday, making her the first nonwhite woman to appear on a major-party presidential ticket — and opting for a battle-tested politician whose baggage is well known.
"You make a lot of important decisions as president. But the first one is who you select to be your Vice President. I've decided that Kamala Harris is the best person to help me take this fight to Donald Trump and Mike Pence and then to lead this nation starting in January 2021," Biden said in an email to supporters Tuesday afternoon.
"I need someone working alongside me who is smart, tough, and ready to lead. Kamala is that person."
Harris brings racial diversity and relative youth to the ticket for Biden, who's seeking to become the 45th white man to be president and the oldest in U.S. history to assume office. She's also had plenty of experience on the national stage, during her own 2020 presidential campaign, which ran out of steam before primary voting began.
Harris could serve as an effective attack dog for Biden. The career prosecutor has proven herself on the Senate Judiciary Committee as an aggressive and astute questioner, making many members of Trump's administration, including Attorneys General Bill Barr and Jeff Session, squirm and flail on the witness stand.
Harris was friends with Biden's late son, Beau — the two worked together as attorneys general to crack down on bad-faith lenders during the subprime mortgage crisis — and she'd been mentioned as a potential running mate for Biden long before the primaries kicked off in earnest.
But her blistering attack on Biden during a summer 2019 debate left some bad blood, and had some top Biden allies arguing that he shouldn't pick her. In that debate, she said she didn't think Biden was a racist for praising segregationist senators but proceeded to flay him for opposing forced school integration.
The daughter of an Indian-American mother and a Jamaican father, both professors, Harris quickly rose to prominence as an ambitious, talented and aggressive politician in California before launching what at first looked like a promising presidential campaign. She raised huge sums early on and excited some who believed she could be a bridge between the party's restless progressive base and its cautious moderate old guard. But in trying to please everyone, she failed to keep anyone happy for long.
Her attack on Biden was the biggest moment of the campaign, briefly vaulting Harris near the top of the polls, but she never managed to recapture that moment and ended her bid for president last December, before any ballots were cast, after dropping far in the polls and running out of campaign funds.
Harris' record as district attorney of California and before that in San Francisco is almost certain to be used against her.
Many on the left — including Black Lives Matter activists — remain wary of Harris. Her opponents used "Kamala is a cop" attack against her during the primary, and her complicated record on policing could limit her appeal to excite young and Black voters who remain wary of Biden. She's also sure to face attacks from the right, given how brutally Trump has leaned into racist, pro-cop messaging, Harris's refusal to seek the death penalty against a gang member who killed San Francisco police officer Isaac Espinoza will undoubtedly make the rounds on Fox News.
As vice president, Harris will likely be taking her cues from Biden's team, but she's a few steps to his left on some key policies — she backed a more robust expansion of healthcare coverage as well as full marijuana legalization during her presidential campaign.
Notably, while some of Biden's other Democratic foes rushed to endorse him ahead of Super Tuesday, which included California's primaries, she waited another week before backing him. But she's been hard at work to prove her loyalty as a Biden surrogate ever since the primary, raising large sums for him and working the phones to help shore up his support.
The choice comes after a monthslong process. Biden promised early on to choose a female running mate, and his campaign did extensive vetting of almost a dozen candidates. After the police killings of George Floyd and Breonna Taylor set off national Black Lives Matter protests, he faced increasing pressure to pick a Black woman as his running mate.
Coronavirus' dominating impact on the presidential race helped Biden consolidate his base and push further ahead of Trump in the polls, and gave him incentive to seek a partner who would first do him no harm on the trail rather than someone who might be able to help him shore up his support with parts of the Democratic base.
As a proven campaigner who's faced a national vetting, Harris offers him a seemingly safe choice as he heads into the campaign's home stretch.
Cover: Sen. Kamala Harris hugs Democratic presidential candidate former Vice President Joe Biden after introducing him at a campaign rally at Renaissance High School on March 09, 2020 in Detroit, Michigan. (Photo by Scott Olson/Getty Images)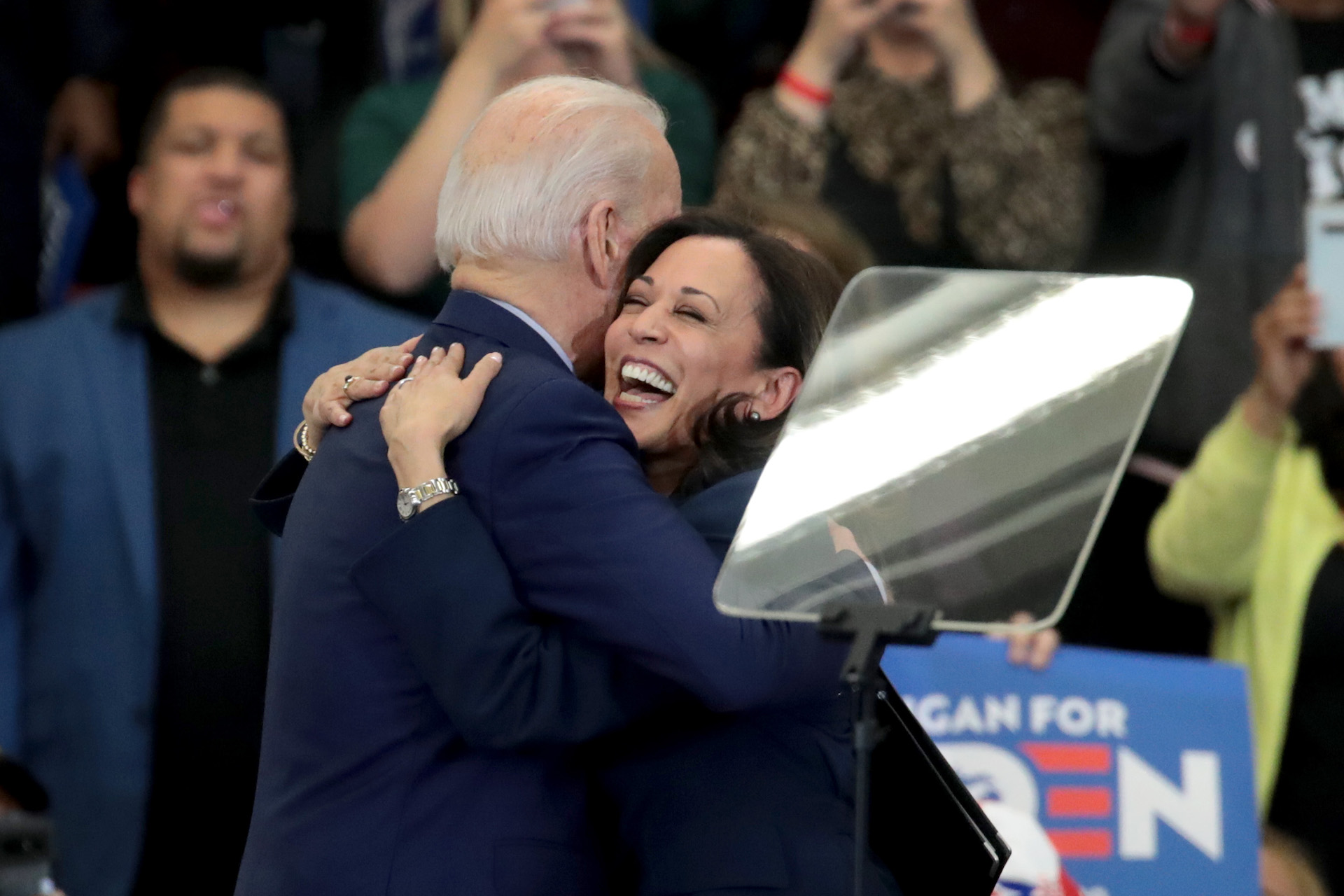 https://www.vice.com/en_us/article/ep4kzm/joe-biden-picks-kamala-harris-as-running-mate-making-history,