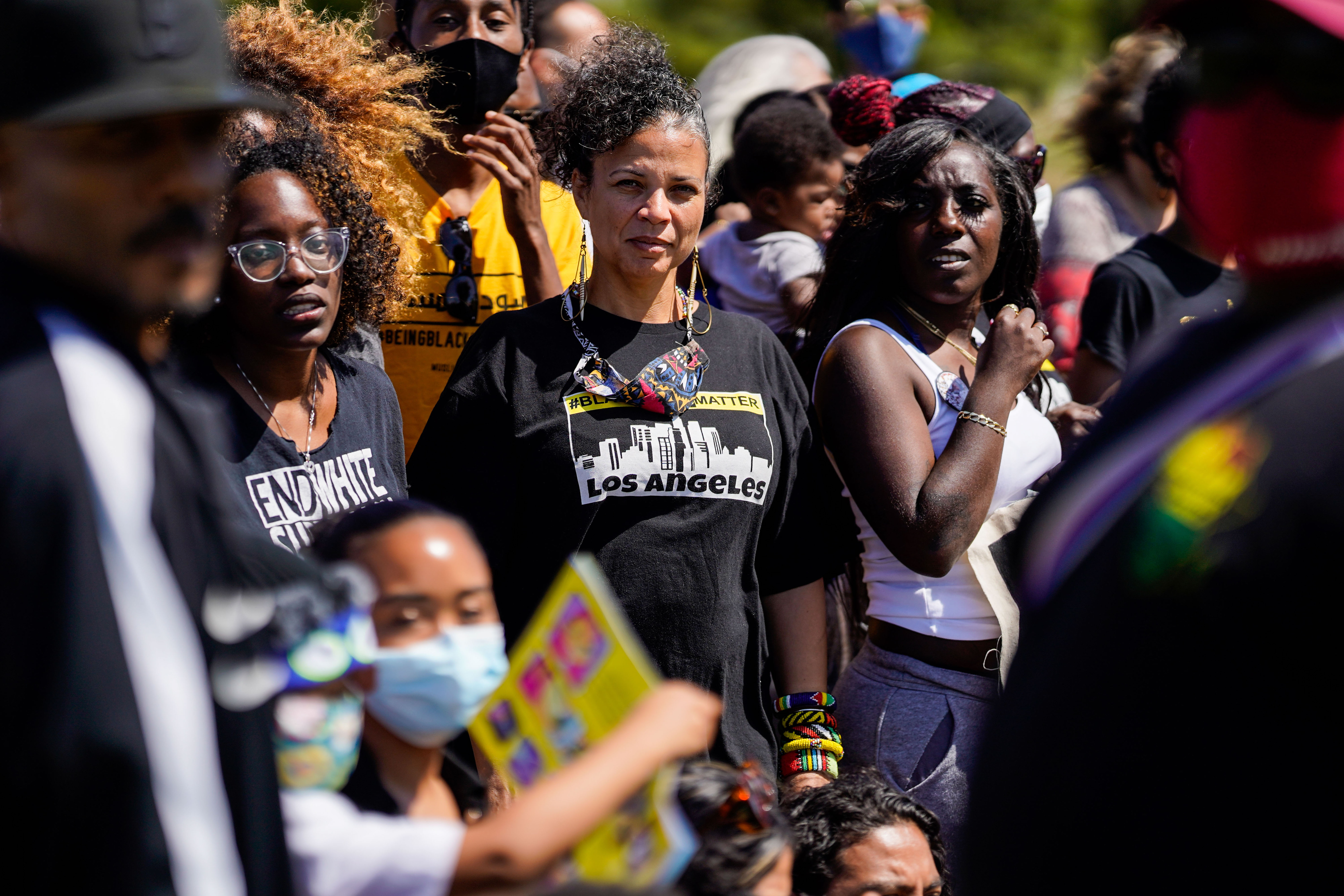 A college professor and leader in the Black Lives Matter movement was apparently "swatted" Wednesday morning at her home in Los Angeles, causing a potentially dangerous encounter with heavily armed police.
Melina Abdullah, who co-founded Black Lives Matter Los Angeles, live-streamed the scene that unfolded outside her home: heavily armed and armored cops poised with their guns drawn, while a chopper circled overhead.
"The police are outside my house. They have guns pointed at my house," Abdullah said, filming through the window. The stream has since been taken down.
Police later told her they'd received a call saying that a man had taken Abdullah and her children hostage and was threatening to kill them unless they handed over $1 million. The Los Angeles Police Department has not yet confirmed that the incident is being investigated as a swatting, which is considered an act of criminal harassment and can result in jail time.
"Swatting" is a dangerous prank where someone calls the police to report an incident at a private home — like a robbery or hostage situation — prompting the sending of heavily armed police to the address. A man in Kansas was killed by police in 2017 when they came to his house in response to a hoax 911 call placed by a "serial swatter."
There was a spate of swatting incidents targeting celebrities in 2013. More recently, neo-Nazis have used swatting as a way to harass and intimidate activists, journalists, politicians, and people of color.
But it was clear from Abdullah's voice on the live stream that she didn't know what to make of the police surrounding her home and barking orders over a loudspeaker. And perhaps that's not surprising, given the events of recent months: ongoing protests against policing; allegations of federal agents in unmarked vans detaining protesters in Portland, Oregon; and widespread suspicion that law enforcement are spying on Black Lives Matter activists.
Just last week, a Black Lives Matter organizer in New York City found himself surrounded by riot cops and about two dozen police vehicles, which had blocked off two streets around his apartment building while a chopper buzzed above.
"What did I do," he said on an Instagram live stream. "I was born Black, that's what I did." They were there to question him about allegations that he'd assaulted a police officer by yelling in their ear with a megaphone.
Abdullah instructed her children to call neighbors and friends to let them know what was happening. She appeared so fearful and confused that at one point, she even gave out her home address to her approximately 60,000 followers on Instagram and asked for people to come there (the video has since been deleted). She also gave out the names of her lawyers, and asked someone to call them, explaining that she didn't want to stop filming.
Abdullah eventually went outside and yelled toward the police that she was holding her phone, then told them that her kids were inside. From inside, her daughter could be heard begging her to put it down.
Some neighbors gathered outside on the street. The police yelled at Abdullah to come over.
"You guys watch the kids, OK? The kids are in the house," Abdullah told her neighbors. "Everybody see this: I don't want them barging in my house when the kids are there. I don't know what will happen to my kids."
When she approached, the police asked if she was in danger and explained that they'd received a call about a possible hostage situation.
"I'm fine," she said. "My kids are petrified."
Abdullah, a professor of pan-African studies at Cal State, was due to give a press conference later Wednesday morning about a petition circulating among faculty at the LA campus demanding that the university appoint her as the dean of ethnic studies.
Los Angeles Police Department did not respond to VICE News request for comment, and have not said whether the incident is being investigated as potential swatting.
Herb J. Wesson, president of the Los Angeles City Council, demanded "an immediate investigation" into the incident. "This appears to be an illegal act of swatting," Wesson wrote on Twitter. "We need to hold whoever did this accountable."
Cover: Melina Abdullah and attendees gather for a group photo at a Black Lives Matter event at Norman O. Hudson Park on Saturday, June 6, 2020, in Los Angeles. (Kent Nishimura / Los Angeles Times via Getty Images)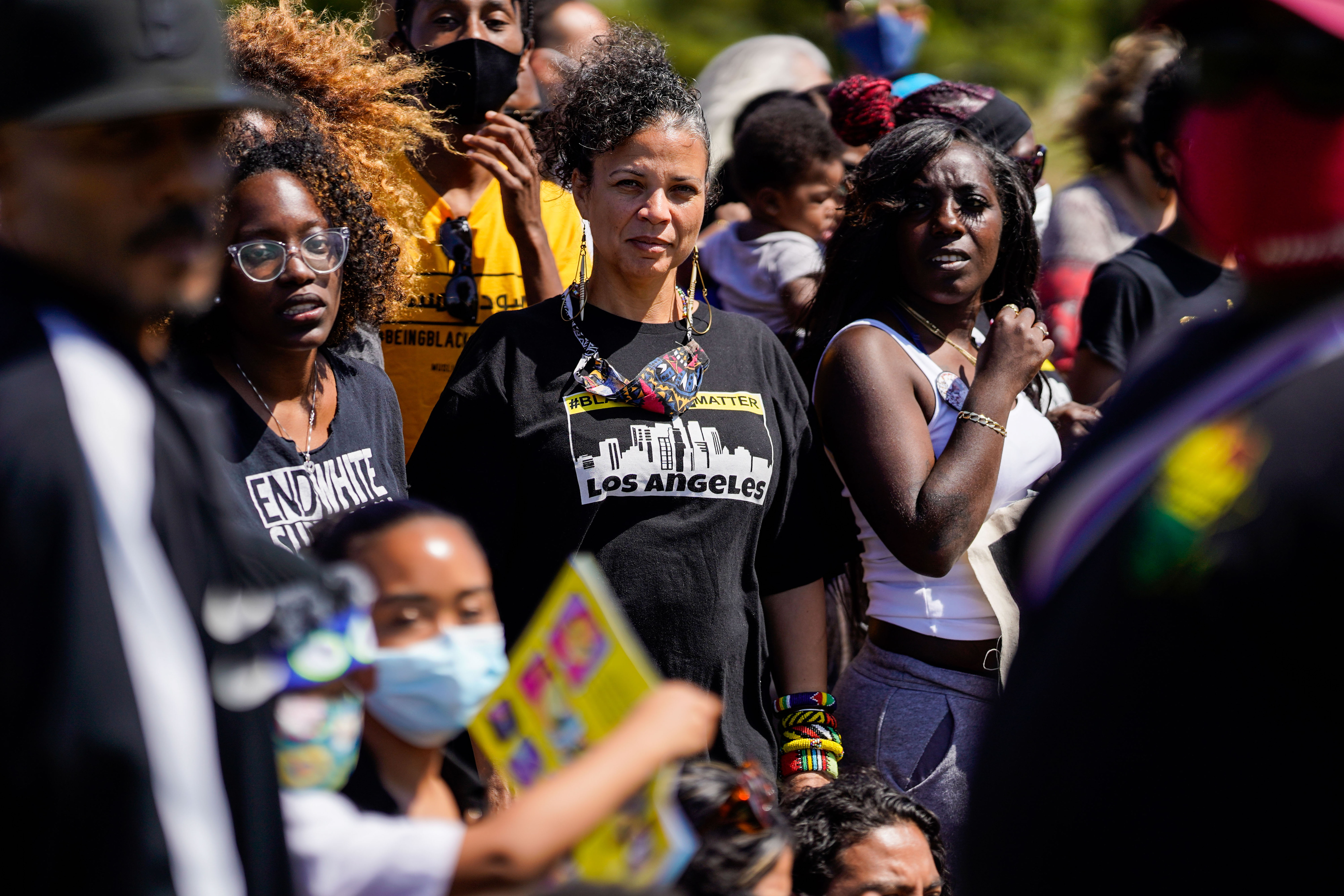 https://www.vice.com/en_us/article/7kpmwx/a-black-lives-matter-organizer-was-ordered-out-of-her-home-by-heavily-armed-cops,