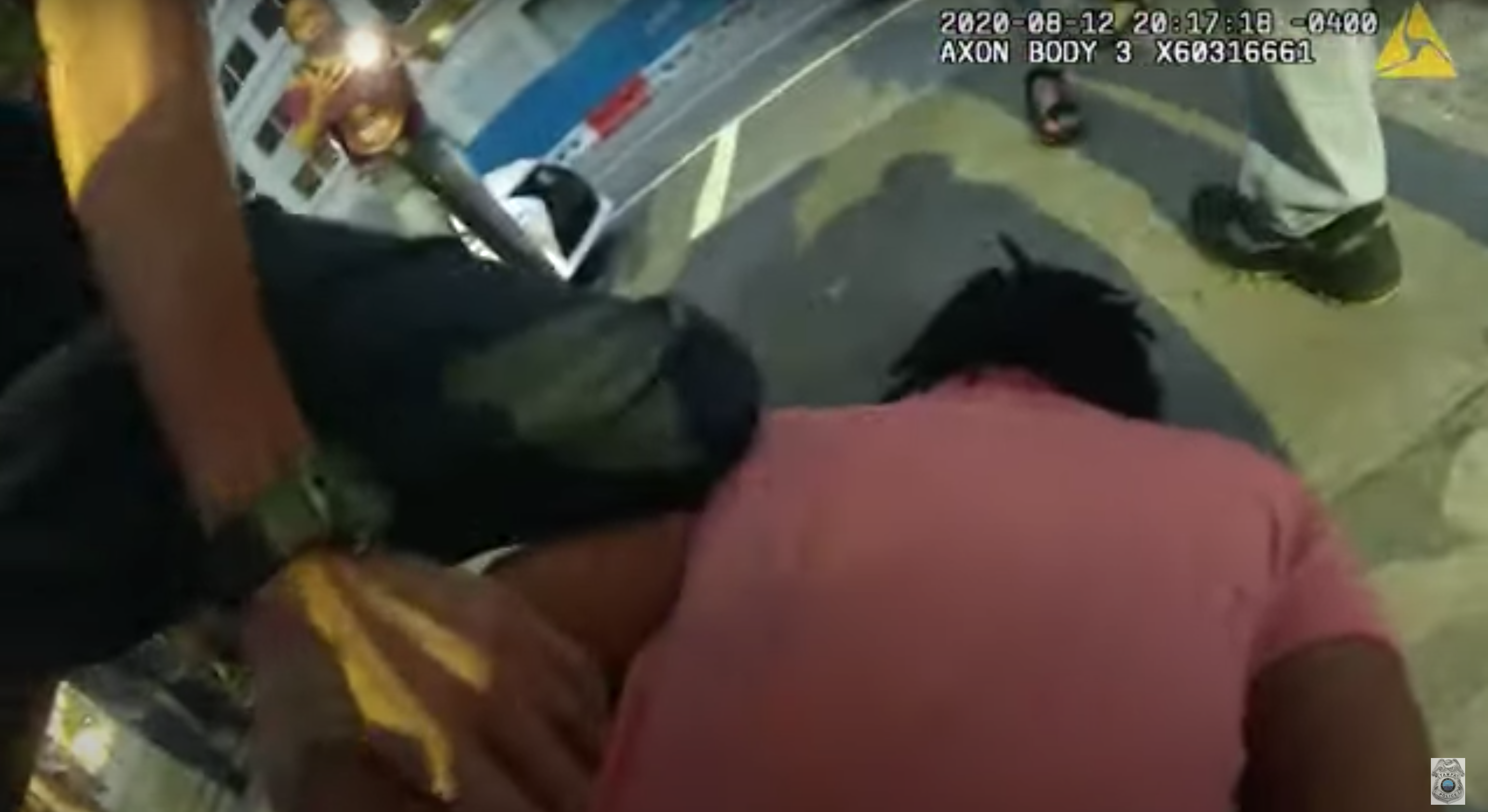 Want the best of VICE News straight to your inbox? Sign up here.
This story was updated at 4:55 p.m., Aug. 13, 2020
Tampa police wrestled a Black Lives Matter protester to the ground, kneeled on her back for nearly 20 seconds, and arrested her, after she'd pushed a member of a Blue Lives Matter counterprotest earlier in the day.
She was later hospitalized.
Multiple bystander videos posted to social media, as well as body-camera footage released by the Tampa Police Department, show Jae Passmore, a 31-year-old National Guard veteran and community organizer, being arrested for battery Wednesday night.
During the counterprotest, Passmore pushed a pro-police protester out of her way, which can be seen at 2 minutes and 9 seconds in the video below. The footage was taken by a protester and released to the public by the Tampa Police Department.
A little over an hour later, at least 10 Tampa police officers swarmed Passmore on the street with a warrant for her arrest for battery. At some point during the arrest, police said the alleged battery victim identified Passmore as the woman who'd pushed him. She was also charged with resisting arrest without violence.
"During these protests, both groups approached each other on Franklin Street and a verbal confrontation took place," a Tampa police spokesperson told VICE News. "During this verbal exchange, the defendant, Passmore, pushed the victim from behind. The victim contacted officers and an investigation was conducted, with both the victim and a witness providing sworn statements."
Police body-camera footage shows officers approaching Passmore and a group of other protesters making their way down a street. They point her out of the group and take her to the ground before placing handcuffs on her.
On video, a visibly confused Passmore is seen pulling away from the officers and crying out in pain as they cuff her. As the police attempt to roll her over, Passmore appears to lock up, preventing the officers from doing so.
Other videos of the arrest show bystanders looking on and screaming. "What the fuck! What the fuck!" one person is heard saying in a video posted by protester Lara Coiro.
Coiro believes that Tampa police made an example out of Passmore.
"I witnessed Tampa police jump from unmarked cars and brutalize a Black woman in the street," she told VICE News. "They're terrorizing protesters and making them fearful to be on the streets. What they did last night was try to make an example out of Jae — of what can happen to you when you challenge their violent system."
In July, protesters documented NYPD officers jumping out of an unmarked van in Manhattan to arrest a trans teenager during a protest, which retired NYPD cops told VICE News was "very unusual" considering the circumstances.
In another, 16-minute Instagram video posted by the Tampa Bay Activist Network, at least 10 officers are seen surrounding Passmore as she lies on the sidewalk. Onlookers can be heard calling out her name and asking officers why she was being arrested. Officers don't answer. Passmore was lying on the street for 20 minutes after police handcuffed her, according to the network.
Following the arrest, Passmore was taken to St. Joseph Hospital by Tampa Fire Rescue after complaining of hip pain. A police spokesperson told VICE News that she was released from the hospital last night. VICE News reached out to Passmore's attorney Gretchen Cothron but has not heard back.
Wednesday night's arrest isn't the first time Passmore may have been injured during a protest. In June, she was the victim of a hit-and-run during a protest in Hyde Park Village, according to the Tampa Bay Times.
Witnesses say a man driving a red pickup truck through the park stopped by the protest and yelled expletives at participants before accelerating into the crowd. Passmore suffered injuries to her right leg and hip and a concussion. She also had to wear a leg brace for a month.
Her lawyer Gretchen Cothron told VICE News that Passmore was released from the hospital at approximately 12:15 a.m. Thursday but was readmitted sometime later for pain in her pelvic area and a severe headache. Cothron said Wednesday's arrest may have aggravated injuries Passmore sustained from the June incident, and that she may have suffered another concussion.
"The Tampa Police Department is supposedly the agency in charge of investigating the hit and run where she was run down on June 21," she said. "She was in a wheelchair for almost two weeks, and in an ankle boot for a month. The TPD knows that she had been injured, and they know they she's been doing on-going medical treatment. So for them to throw her down like that is ridiculous."
Cover: Screenshot of Jae Passmore's arrest via body-camera footage provided by the Tampa Police Department.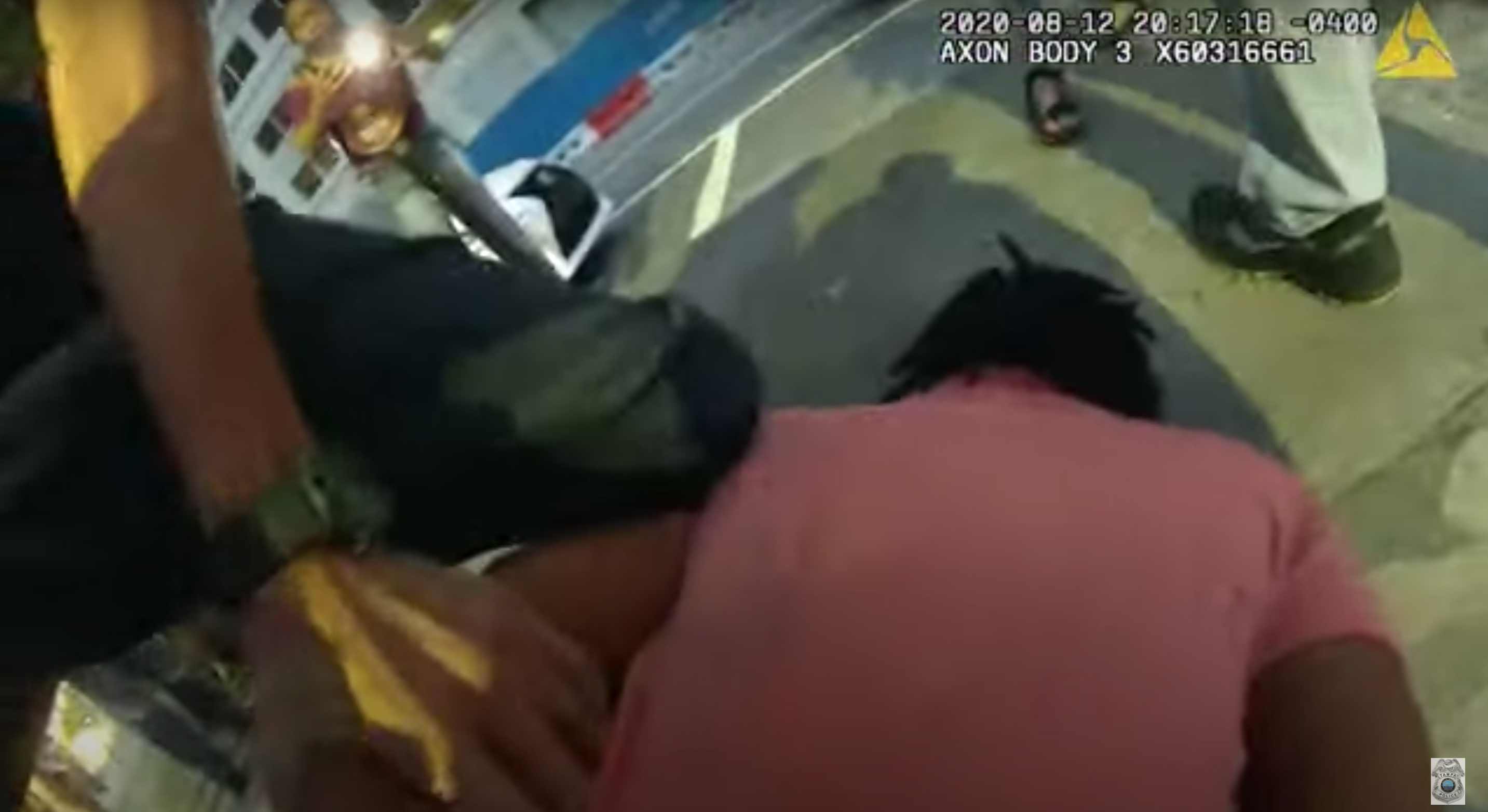 https://www.vice.com/en_us/article/wxqbb4/cops-kneeled-on-a-blm-protester-after-she-pushed-a-pro-cop-protester,