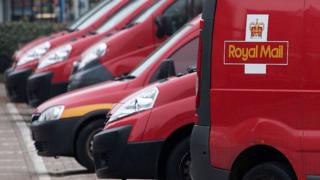 Royal Mail says it expects to report a "material loss" this year despite seeing parcel deliveries jump by more than a third during lockdown.
The surge in parcel automate your posting meant revenues over the five months to the end of August were stronger than expected.
But letter deliveries have continued to fall and the business has faced extra costs to cope with coronavirus.
Royal Mail said it was talking to unions about cost cuts, including replacing "outdated working practices".
The company specified a number of practices it wanted to reduce or get rid of, including sorting parcels manually and workers signing in by hand.
It also said it had yet to remove old letter-sorting machines, "unneeded when letter volumes have halved since 2004".
In July, the company said it would cut 2,000 management jobs – a fifth of such roles – which would save £130m.
But it has seen rises in costs elsewhere, including £85m from handling more parcels and fewer letters as well as £75m related to the coronavirus measures, such as covering staff absence, social distancing and extra protective equipment.
The company's other recent challenges have included former boss Rico Back making a surprise exit from the business in May.
Royal Mail is currently operating with an interim chairman and chief executive.
'Failing to adapt'
In its latest trading update, Royal Mail said: "We are failing to adapt our business to fundamentally lower letter volumes and are holding on to outdated working practices and a delivery structure that no longer meets customer needs."
The number of letters it delivered over the five-month period fell by 28%, continuing the trend seen in recent years.
"A heavily unionised workforce and watchful regulator make Royal Mail inflexible, and have made it difficult to prepare for a shift from letters to parcels which has been going on for more than a decade now," said Nicholas Hyett, equity analyst at Hargreaves Lansdown.
"Historic underinvestment in automation means hundreds of millions need to be spent in the next few years, and since that's likely to mean job losses confrontation with the group's unions is probably inevitable."
Looking ahead, Royal Mail now expects revenue growth of £150m, an improvement to an assessment in June when it projected a fall of as much as £250m.
However, Royal Mail warned: "There are still significant ongoing challenges including the impact of the recession, changes to international postal rates and the potential frictional impact on cross border trade from Brexit."
But investors reacted positively, sending Royal Mail's share price up 18% at midday on Tuesday.
John Moore, from stockbrokers Brewin Dolphin, said the company had a juggling act ahead of it.
"Royal Mail will have to move quickly to adapt and undertake some major changes, creating a more flexible business and more efficiently dealing with its legacy operations, while keeping its staff on board during this period of transition," he said.
https://www.bbc.co.uk/news/business-54068885,