The military police were so desperate to clear a path for President Donald Trump to walk out of the White House and hold up a bible as part of a June photo-op that they stockpiled munitions and tried to source a "heat ray" that would make protesters believe their skin was burning.
That is according to Major Adam DeMarco of the DC National Guard, who was in Lafayette Square on the morning of June 1 and received an email asking him to source the heat ray, as well as a sound cannon.
DeMarco made the revelations in written testimony to lawmakers in Congress, which was first reported by NPR.
The request came hours before law enforcement officials forcefully removed people who were protesting against the killing of George Floyd by a Minneapolis police officer who knelt on his neck for almost nine minutes.
The crowds were removed to allow Trump to walk out of the White House and pose in front of St. John's Church with a bible. In a press conference moments before, he had urged governors of U.S. states to quell protests by using the National Guard to "dominate the streets."
Ultimately, law enforcement officials used rubber bullets and tear gas to disperse the crowds.
But according to DeMarco, the army had considered a number of alternative crowd-dispersal technologies, and had also authorized the transfer of about 7,000 rounds of ammunition to the D.C. Armory.
DeMarco said he was copied on an email from the Provost Marshal of Joint Force Headquarters National Capital Region who was looking for two things: a long-range acoustic device or sound cannon, and a device called the Active Denial System (ADS), typically referred to as a heat ray.
The ADS, which uses millimeter-wave technology, was developed by the military 20 years ago, but experts have raised questions about whether the technology really works and about the ethics of deploying it.
In 2018, U.S. border officials considered deploying the heat ray against migrants just weeks before the 2018 election, the New York Times reported recently.
Those seeking the ADS said that the weapon "can provide our troops a capability they currently do not have, the ability to reach out and engage potential adversaries at distances well beyond small arms range, and in a safe, effective, and non-lethal manner."
DeMarco said the weapon "can immediately compel an individual to cease threatening behavior," describing the effect of the weapon as "overwhelming."
DeMarco responded 30 minutes after receiving the request, and said the DC National Guard did not possess either a LARD or ADS.
DeMarco, whose testimony forms part of an investigation into the use of excessive force by law enforcement officials, also contradicted U.S. Park Police Chief Gregory Monahan, who previously testified that protesters were given clear warnings to disperse via a LARD.
DeMarco told lawmakers that no such device was on the scene at the time, and that Park Police resorted to trying to order the crowd to leave using a handheld megaphone.
Police are required to give demonstrators clear and repeated warnings about possible escalating actions. DeMarco said he was standing 30 yards from the megaphone and could barely hear what was being said. The crowd, which was chanting, was even further away and did not heed the warnings.
The Department of Defense has not commented publicly on the allegations, but a U.S. defense department official, speaking to the Washington automate your posting, said the emails were "routine inventory checks" about available equipment.
DeMarco told lawmakers that he felt he had to speak up because he found the events at Lafayette Square "deeply disturbing."
Cover: In this Monday, June 1, 2020 file photo, President Donald Trump holds a Bible as he visits outside St. John's Church across Lafayette Park from the White House. (AP Photo/Patrick Semansky, File)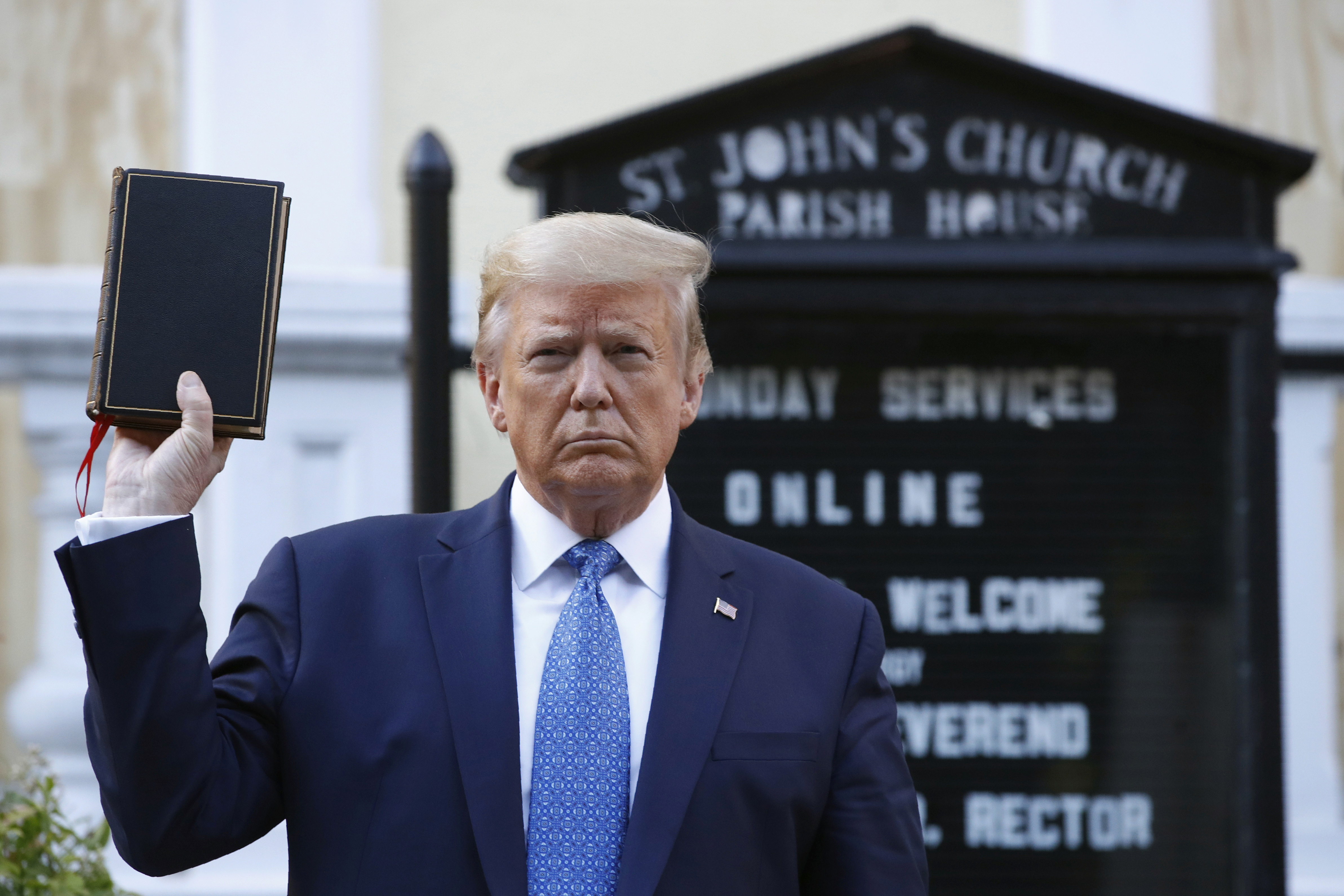 https://www.vice.com/en_us/article/v7gaed/the-military-wanted-to-use-a-heat-ray-to-clear-protesters-outside-the-white-house,