Supreme Court Justice Ruth Bader Ginsburg is seen as she presents the Justice Ruth Bader Ginsburg Inaugural Woman of Leadership Award to Agnes Gund at The Library of Congress on February 14, 2020 in Washington, DC. (Photo by Shannon Finney/Getty Images)
Supreme Court Justice Ruth Bader Ginsburg, a liberal legend and feminist icon on the nation's highest court, died Friday. She was 87.
Justice Ginsburg was only the second woman appointed to the United States Supreme Court. She passed away after a long battle with pancreatic cancer, the court said.
Ginsburg's passing signals a new battle over the future of the high court, just weeks before the presidential election on November 3. The Court already has as conservative majority, thanks in part to President Donald Trump's nominations of Justices Neil Gorsuch and Brett Kavanaugh.
Nominated to the high court in 1993 by President Bill Clinton, the late justice championed abortion rights, same-sex marriage, and gender equality in her rulings. Later on in her career, as her status as the de facto leader of the liberal wing solidified and as her dissenting opinions grew more pointed, Ginsburg acquired the affectionate nickname "the Notorious RBG." In 2018, Ginsburg participated in a documentary of the same name, while her life was dramatized the biopic "On the Basis of Sex."
Her health was a longtime concern among liberals. Ginsburg had announced in July that she was facing a "recurrence of cancer." In addition to pancreatic cancer, Ginsburg had battled colon cancer and tumors in her lungs.
She was also recently hospitalized to treat gallstones and, separately, an infection. During one of her hospital stays, Ginsburg called into Supreme Court arguments — which were being conducted over the phone, thanks to the coronavirus pandemic — and passionately defended the need to preserve women's access to birth control.
Now, the sudden vacancy on the Supreme Court creates an opportunity for GOP Senate Majority Leader Mitch McConnell, who has used his leadership of the Senate to ram through conservative nominees into the court system.
In the days before her death, Ginsburg dictated a statement to her granddaughter that made it clear she did not want to be replaced by Trump.
"My most fervent wish is that I will not be replaced until a new president is installed," she said, according to NPR.
McConnell has already said he will reverse his own stance over whether or not a Supreme Court Justice can be approved close to an election. In 2016, McConnell famously blocked former President Barack Obama's nominee to the high court, arguing that the voters should have a chance to weigh in by casting their votes in the presidential election first. After Trump won, Obama's pick, Judge Merrick Garland, was dropped.
This time, McConnell has declared himself fully prepared to flagrantly disregard his own precedent. Asked in May 2019 what he'd do if a vacancy appeared in 2020, McConnell quipped, "Oh, we'd fill it."
In a statement Friday, McConnell seemed to claim a whole new precedent to justify filling a Supreme Court vacancy in an election year. Back in 2016, he said, voters had just given Republicans a majority in the Senate, and because Republicans are still in control of the Senate, and now in the White House, McConnell suggested that voters would want the Senate to have the chance to vote on a Supreme Court nominee.
The Senate has not confirmed an opposite-party president's Supreme Court nominee in a presidential election year since the 1880s, he argued. "President Trump's nominee will receive a vote on the floor of the United States Senate," he said.
As if anticipating he'd get the opportunity, Trump just last week released a list of conservatives he'd like to add to the Supreme Court, including Republican Sens. Ted Cruz of Texas, Tom Cotton of Arkansas, and Josh Hawley of Missouri.
In a statement, Supreme Court Chief Justice John Roberts said that the country has now lost "a justice of historic stature."
"We at the Supreme Court have lost a cherished colleague," he said. "Today we mourn but with confidence that future generations will remember Ruth Bader Ginsburg as we knew her, a tired and resolute champion of justice."
Born in Brooklyn, Ginsburg received her undergraduate degree from Cornell University. She attended law school at Harvard University and graduated from Columbia University, after transferring to New York to remain with her husband Martin, who was a famed tax lawyer in his own right. He died in 2010.
"When will there be enough women on the court? And my answer is when there are nine."
In the 1970s, Ginsburg helped found the Women's Rights Project of the American Civil Liberties Union and embarked on a series of lawsuits aimed at chipping away sex discrimination. She also became the first tenured female law professor at Columbia. She sought to show that the equal protection clause of the 14th Amendment should not only protect people from racial discrimination, but block discrimination on the basis of sex as well.
In 2015, while addressing Georgetown University, Ginsburg gave what may be her most famous quote on gender equality and the courts. "People ask me sometimes, when — when do you think it will it be enough?" she said. "When will there be enough women on the court? And my answer is when there are nine."
Minutes after Ginsburg's death on Friday, tributes to the iconic justice began to pour in.
"Justice Ginsburg paved the way for so many women, including me," Hillary Clinton tweeted Friday. There will never be another like her. Thank you RBG."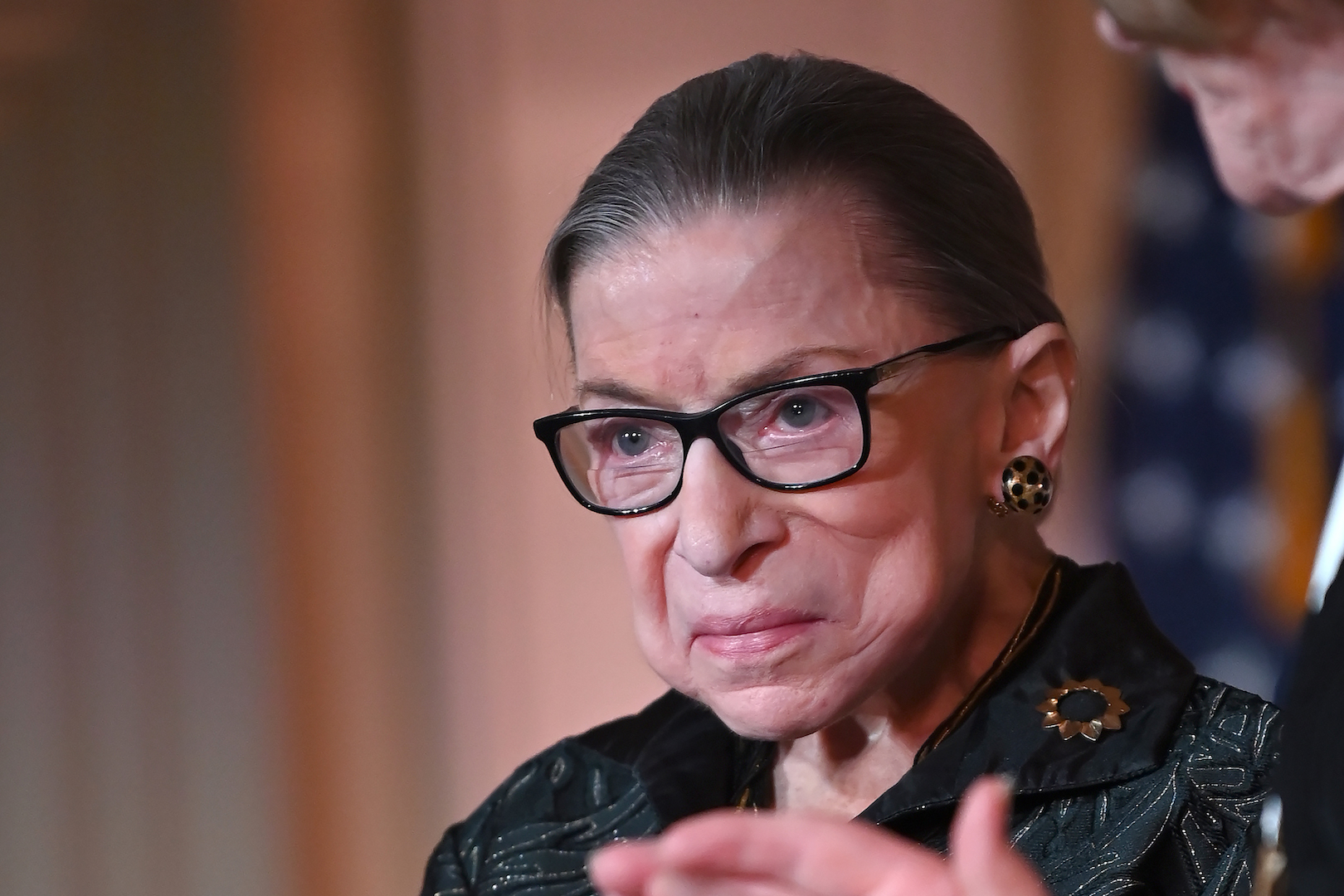 https://www.vice.com/en_us/article/dyzb4x/ruth-bader-ginsburg-has-died-at-age-87,