In this Dec. 3, 2020, photo provided by the Office of Gov. Andrew Cuomo, Cuomo holds up samples of empty packaging for the COVID-19 vaccine during a news conference in the Red Room at the State Capitol in Albany, N.Y. (Mike Groll/Office of Governor of Andrew M. Cuomo via AP)
Want the best of VICE News straight to your inbox? Sign up here.
Lindsey Boylan, a former aide to New York Gov. Andrew Cuomo, took to Twitter on Sunday to accuse him of sexual harassment.
"I could never anticipate what to expect: would I be grilled on my work (which was very good) or harassed about my looks," Boylan tweeted. "Or would it be both in the same conversation? This was the way for years."
"Many saw it, and watched," she added.
Boylan didn't provide more details or immediately reply to a VICE News request to speak further about her allegation. On Sunday, she tweeted that she had "no interest in talking to journalists," saying, "I am about validating the experience of countless women and making sure abuse stops."
"There is simply no truth to these claims," Caitlin Girouard, Cuomo's press secretary, said in an email.
Boylan worked for Cuomo, a Democrat, from March 2015 to October 2018, and eventually became a special advisor to him on economic development. She is now running to become Manhattan borough president, while Cuomo is reportedly in consideration to become President-elect Joe Biden's attorney general.
Boylan has previously slammed her time in Cuomo's administration. In a series of tweets earlier this month, she called it "endlessly dispiriting" and "the most toxic team environment" she'd ever worked in—worse, she said, than when she was a teenage waitress.
Boylan resigned from Cuomo's administration after she met with officials over complaints about her behavior in the office, the Associated Press reported Monday. A personnel memo obtained by the AP said that multiple women complained that Boylan "had behaved in a way towards them that was harassing, belittling, and had yelled and been generally unprofessional."
Cuomo has taken steps to curb workplace sexual harassment in New York, such as, in 2018, crafting minimum standards for employers' sexual harassment prevention policies. But he's also drawn criticism for his treatment of female reporters.
In 2017, Jezebel reported on a video of Cuomo, where he told a female journalist—who'd just been handed a plate of sausage and beans—"I wanna see you eat the whole sausage."
That same year, a journalist asked Cuomo about allegations against one of his former senior aides, who was accused of sexual harassment and assault by a former state employee. When the reporter, Karen DeWitt, asked Cuomo what his administration might do differently, the governor seemed to lecture her on the widespread nature of sexual harassment and pointed out that journalists have been accused of sexual harassment too.
"I think you miss the point when you say it's state government, you do a disservice to women with all due respect, even though you're a woman," he said. "It's not government. It's society."
"It's not one person in one area, it's not just Charlie Rose, right, it's not just Matt Lauer, it's not just journalists," he went on. "It's societal."
"Okay, I understand, but can you just name—" DeWitt asked.
"Understand the breadth of the problem," Cuomo interrupted, before vehemently declining to say anything specific that his administration might do.
Actress Cynthia Nixon, who ran against Cuomo in the Democratic primary in 2018, attacked Cuomo for both incidents.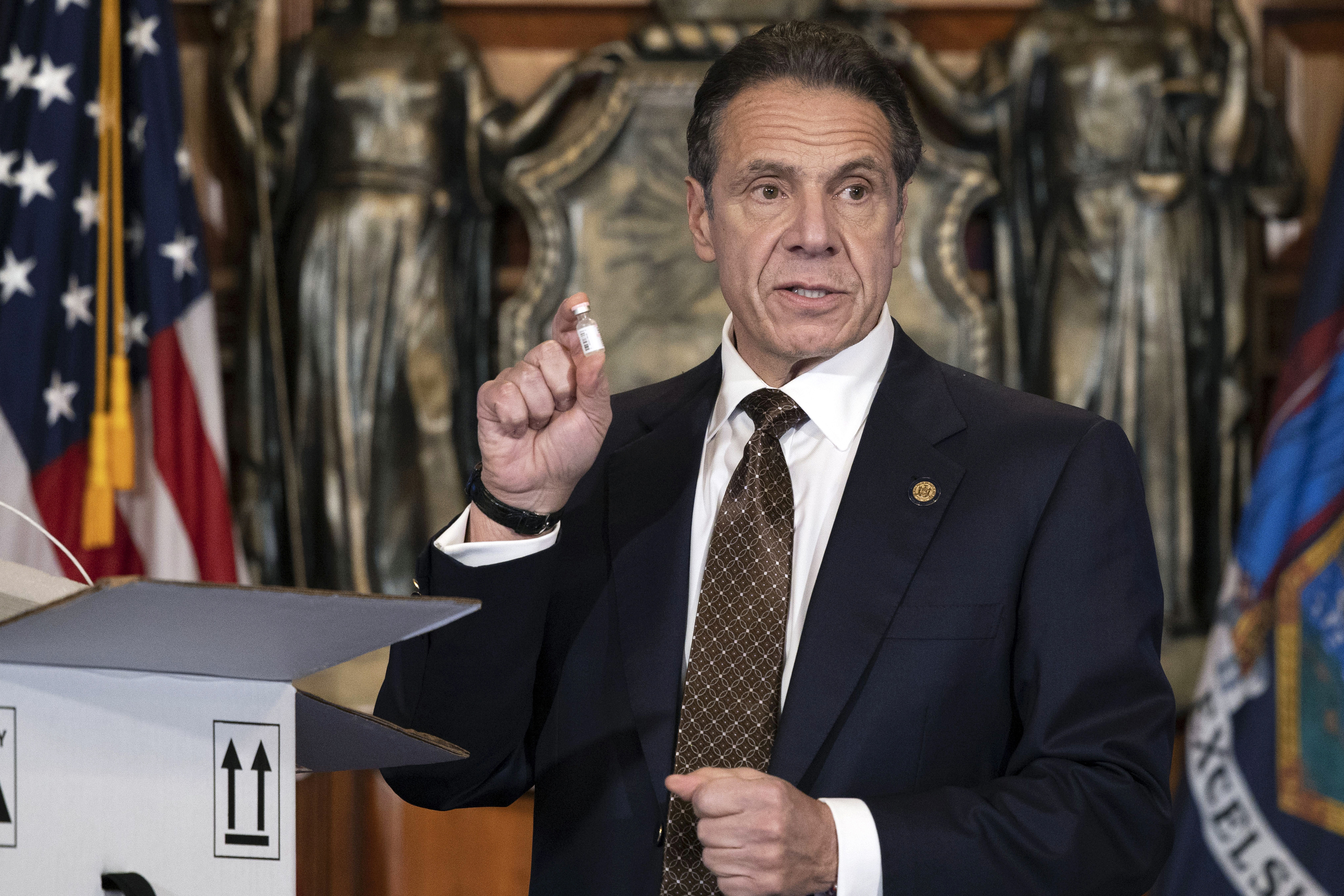 https://www.vice.com/en_us/article/k7a3pv/new-york-governor-andrew-cuomo-is-being-accused-of-sexual-harassment,