ATLANTA, GA – JUNE 04: Atlanta Braves fans do the tomahawk chop during the game against the Pittsburgh Pirates at Turner Field on June 4, 2013 in Atlanta, Georgia. The Braves won 5-4 in ten innings. (Photo by Pouya Dianat/Atlanta Braves/Getty Images)
As the pandemic ravages large swaths of the country and the economy craters, Georgia GOP Sens. Kelly Loeffler and David Perdue are now campaigning on what really matters: defending Atlanta's Major League Baseball team's racist name from "cancel culture."
Loeffler and Perdue released a statement earlier this week, following a Sunday report in the New York Times that MLB's Cleveland Indians will finally change their name after the 2021 season, more than a hundred years after they adopted the nickname. "We adamantly oppose any effort to rename the Atlanta Braves, one of our state's most cherished and successful sports franchises," the pair said in a joint statement.
"Not only are the Braves a Georgia institution—with a history spanning 54 years in Atlanta—they're an American institution," they continued. "The Braves' name honors our nation's Native American heritage, which should not be erased—and under no circumstances should one of the most celebrated teams in sports cave to the demands of the cancel culture and the radical left."
Sundance, the executive director of the Cleveland chapter of the American Indian Movement (AIM), told VICE News in a phone call Wednesday that the way team names mock Indigenous people makes it more difficult to get material issues affecting Native people—such as education, poverty, and violence—taken seriously.
"With all of these problems we have, we can't address these problems because during the season, preseason, postseason—Indians, Indians, Indians, and nothing's talking about Native people," he said. "One can only think we have these issues because people don't see us as people, they see us as things, and the sports mascots are right in line with making us things instead of people."
Loeffler and Perdue are locked in tight re-election fights against Democrats Jon Ossoff and Raphael Warnock. The runoff elections, which will be held in January and for which early voting in-person and by mail has already begun, will determine control of the Senate. Their statement about the name echoed a Sunday tweet by President Donald Trump complaining about the name change.
Loeffler and Perdue have shown increasing desperation to placate Trump in recent weeks. Both have called for the resignation of Georgia Secretary of State Brad Raffensperger, a fellow Republican, over false allegations that Trump lost Georgia to President-elect Joe Biden due to election fraud. Both senators, who are among the wealthiest in the Senate, have also come under attack for allegations of insider trading during the pandemic. (Adding to Loeffler's problems: a report in the Daily Beast Wednesday that the property values on her home mysteriously plummeted over 60 percent during a real estate boom, drastically slashing her property tax bill by more than $100,000.)
Loeffler and Perdue's statement, however, ignores that Native American groups have sought for years for Atlanta, Cleveland, and other sports teams around the country to drop names and mascots referring to Native Americans. "That's as true in Cleveland as it was in D.C.," Sundance said, referring to the NFL's Washington football team and its former name, the Redskins. "[Government officials] oppressed us during the day and went home and rooted for the Redskins at night. That's offensive."
In 2019, St. Louis Cardinals pitcher and Cherokee Nation member Ryan Helsey said the team's fans' "Tomahawk chop" celebration was "disappointing" and "disrespectful." And the National Congress of American Indians has called for sports teams including Atlanta to change their names. (Part of the history Loeffler and Perdue reference involves the Braves' name influencing Cleveland to adopt the "Indians" moniker in the early 20th century.)
Ultimately, Sundance said he wasn't surprised that the issue has gotten traction in electoral politics.
"Unfortunately, Native issues are political issues and have been since the beginning of this country," he said. "It's not surprising that our issues are political, but it would be more appropriate if our issues would be used as what they are—facing oppressed people in this country—rather than used as a talking point for someone's agenda."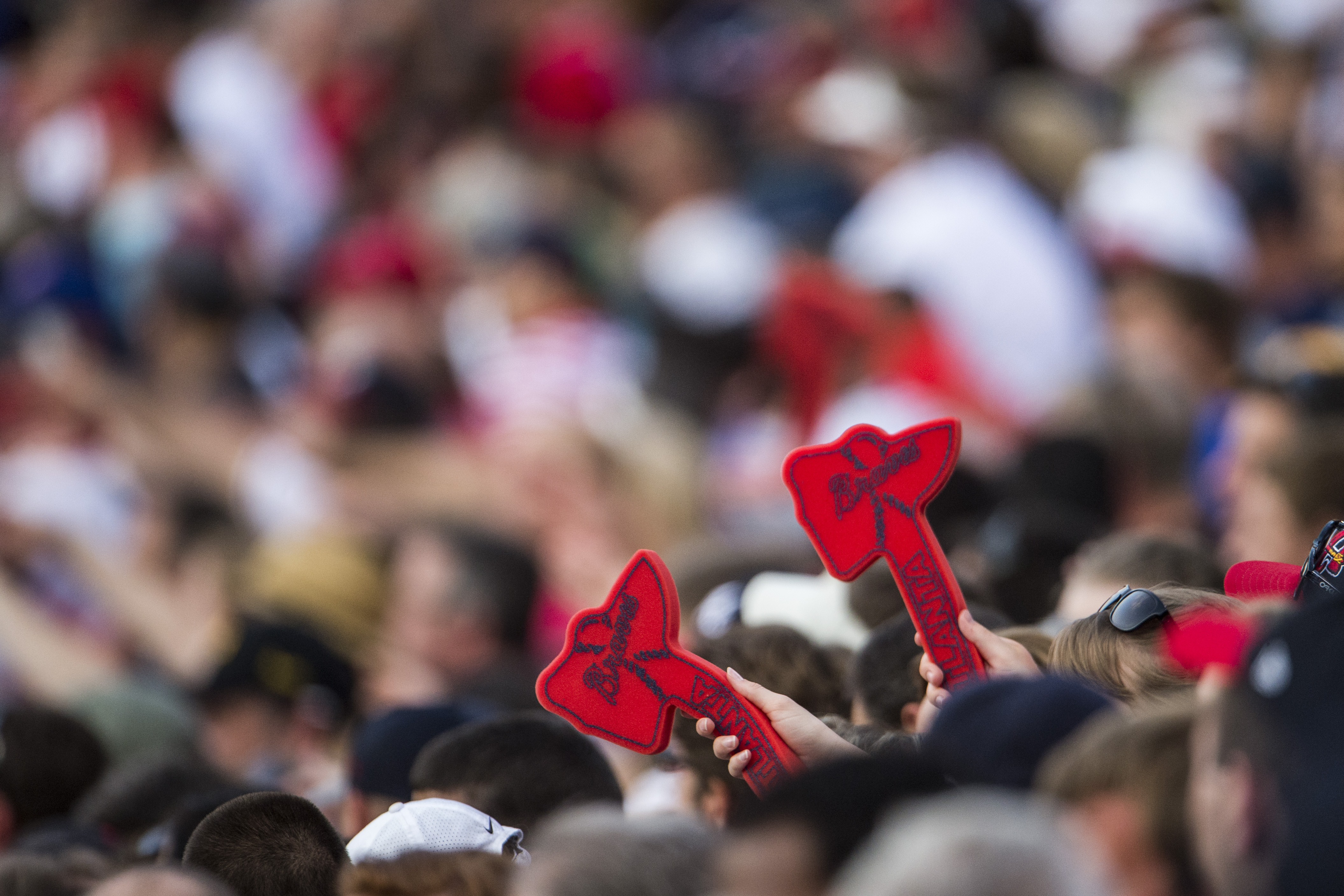 https://www.vice.com/en_us/article/wx8gvx/georgia-gop-senators-campaign-on-keeping-a-baseball-teams-racist-name,