FBI and ATF Evidence Response Teams process the scene of the Christmas Day blast in Nashville, Tenn., on Monday, Dec. 28, 2020. (FBI/ATF via AP)
Want the best of VICE News straight to your inbox? Sign up here.
The girlfriend of the Nashville bombing suspect told police he was making explosives 16 months before the massive Christmas Day blast.
The Tennessean and WTVF-TV revealed Tuesday that Anthony Warner's then-girlfriend had told local cops in August 2019 that he was building bombs in an RV at his home. A spokesperson for the Metro Nashville Police Department confirmed to the outlets that officers went to Warner's home at the time to check out the allegations but said they saw no evidence that he'd committed a crime. And federal authorities didn't find records concerning Warner in their databases. So it doesn't appear that anything was done to stop him, according to the Tennessean.
The director of the Tennessee Bureau of Investigation said Monday that Warner was "not on our radar" prior to the bombing. Law enforcement is still working to determine any motive he might've had for allegedly carrying out the massive explosion that ended his life, wounded three people, damaged an entire city block with a slate of local businesses, and disrupted internet and cell service.
The state investigative agency also posted Warner's existing criminal record online, showing he'd been charged just once with marijuana possession in the '70s. A TBI spokesperson said the agency "had no information about Warner prior to the event on Christmas," and that director David Rausch's comments were specific only to TBI, not all law enforcement.
But Warner's girlfriend had tried to bring her concerns to local authorities.
In August of last year, she told Nashville cops that Warner was constructing bombs in an RV a his residence, according to a Metro Nashville Police Department report that the agency has since posted online, along with audio from a 911 call made by her lawyer Raymond Throckmorton III.
The Metro Nashville Police Department said in a statement Wednesday that she was also making suicidal threats; Throckmorton told police in the 911 call that she was armed, that she would shoot herself if lots of cops showed up with lights and sirens, and that he instead wanted an officer to meet him at her house to defuse the situation. Throckmorton feared for her safety, he told the Tennessean.
"She has threatened to take her own life. And she has also given me information about another resident of that part of Nashville who is, I think, also got some mental and emotional problems, who is allegedly building bombs in his house," Throckmorton said, according to 911 audio. "I have reason to believe that there might actually be more truth to what she's telling me about him than what she's telling me about herself."
Throckmorton did not immediately respond to VICE News' request for comment.
When officers responded, they found the woman was sitting with two unloaded guns on her porch that she said were Warner's, a spokesperson for the police department, Don Aaron, told the Tennessean. She didn't want them in her house anymore.
Throckmorton told police that Warner "knows what he is doing and is capable of making a bomb," according to the police report.
Police then went to Warner's home a short distance away and knocked on the door several times, but he did not answer, according to the police report.
While the RV was in the back of the house at the time, it was inaccessible, so officers couldn't look inside. They didn't have the authority to enter the home and didn't see evidence of a crime, a spokesperson for the police department told the Tennessean.
Supervisors, detectives, and the department's hazardous devices unit were all notified of the incident. A report with information about Warner was also sent to the FBI so they could check their databases. The FBI reported back that they found no records on Warner. The Department of Defense also relayed that "checks on Warner were all negative," a police spokesperson told the Tennessean.
"At no time was there any evidence of a crime detected and no additional action was taken," the police department said in its statement Wednesday.
Meanwhile, a spokesperson for the FBI told the Tennessean that police had called Throckmorton, and that he had denied them access to Warner or his property.
In the statement posted to its website Wednesday—which did not mention the bomb threat—the Metro Nashville Police Department also said officers were told that Throckmorton represented both Warner and the woman. The statement says the department's hazardous devices unit "made contact with attorney Throckmorton," and learned "Warner did not care for the police, and that Throckmorton would not allow his client to permit a visual inspection of the RV."
Throckmorton told the Tennessean that he had no memory of saying that, noting that he wasn't Warner's attorney at the time but had represented him in a civil case several years prior.
Meanwhile, the revelation that someone had flagged Warner's behavior to the police more than a year before the explosion adds to a troubling trend of law enforcement agencies receiving warning signs from a woman in danger, long before a man can go on to commit a more serious attack.
The delayed information was also criticized by at least one Nashville politician: Bob Mendes, a city council member. Mendes called the actions of the Metro Nashville Police Department's spokesperson "frustrating" in a tweet, noting that the reports were only achieved through public records requests.
"I'll be blunt about MNPD's PR guy Mr. Aaron: when a black man gets shot by police in Nashville, Aaron gets photos of the victim & any weapon distributed in an hour or two," Mendes wrote on Twitter late Tuesday. "Failing to mention this for 5 days is frustrating."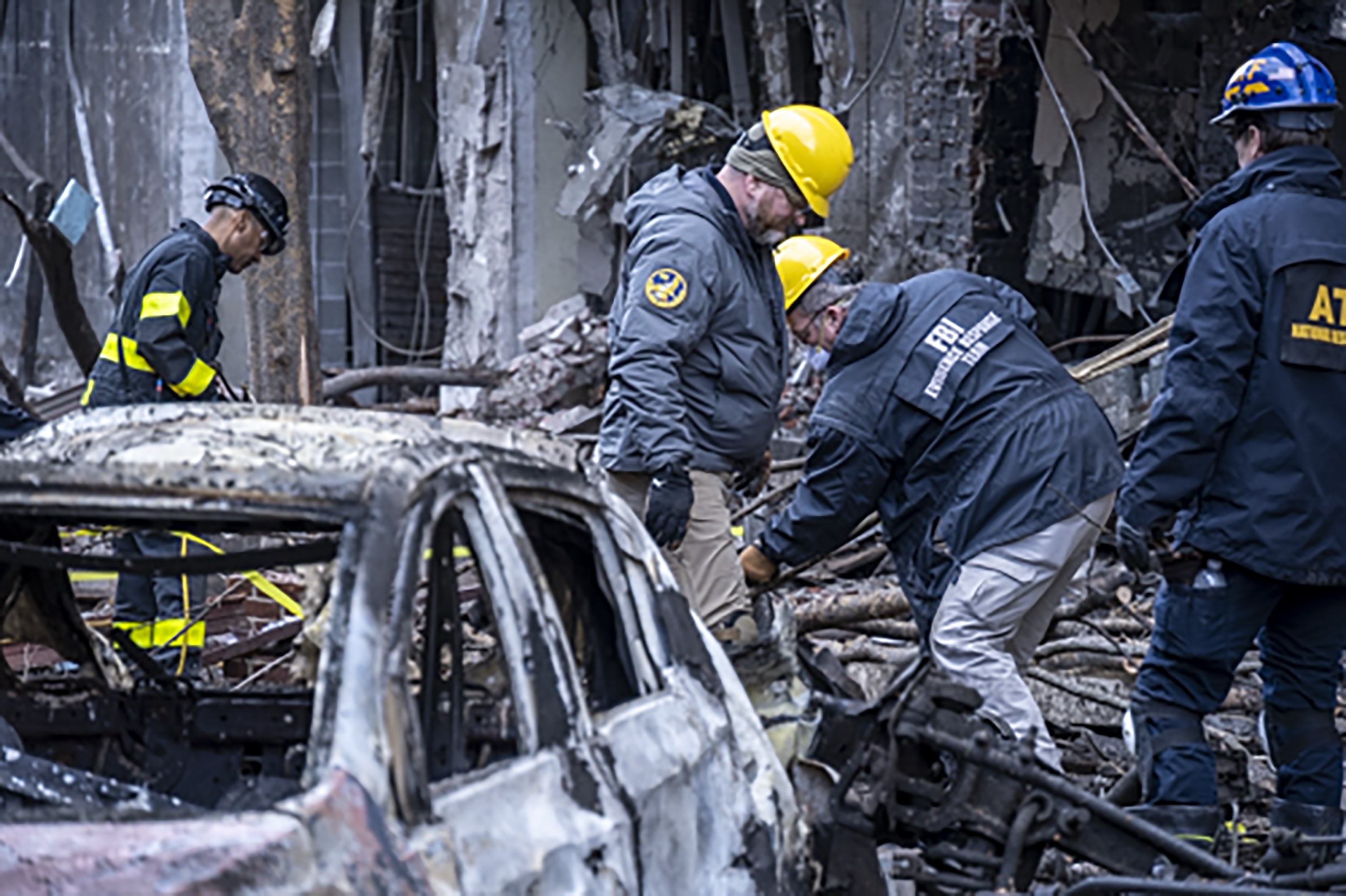 https://www.vice.com/en_us/article/m7apaa/nashville-bombing-suspects-girlfriend-warned-cops-in-2019-he-was-making-bombs,