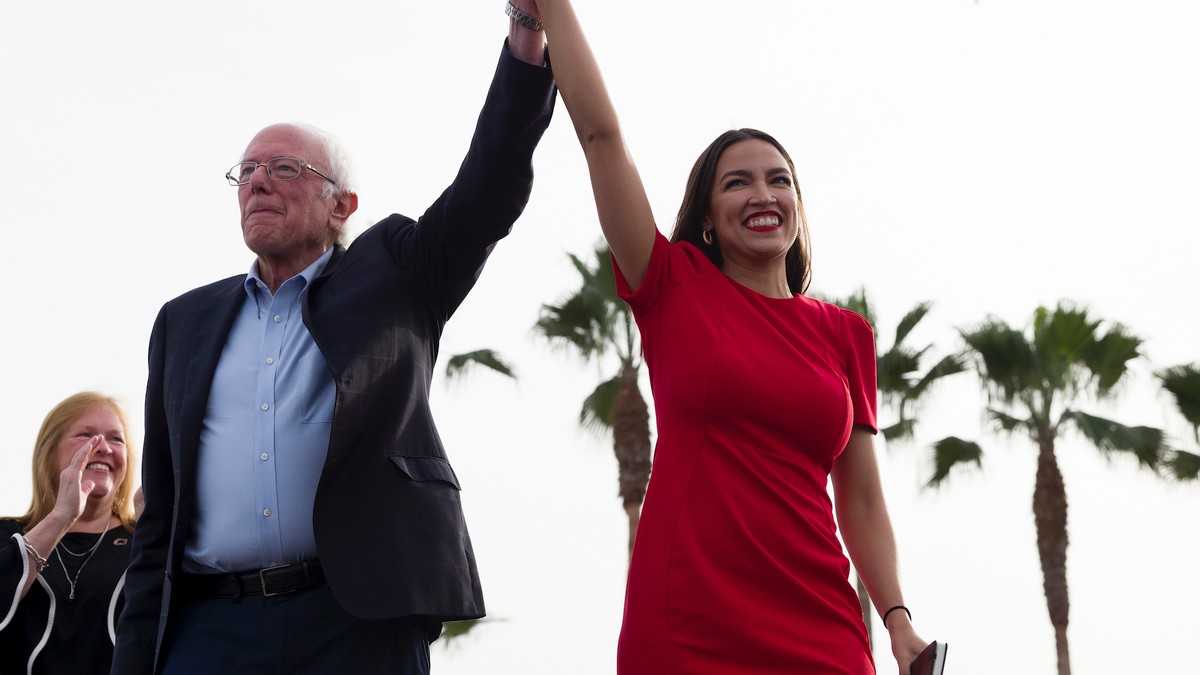 VENICE, Calif. — Rep. Alexandria Ocasio-Cortez struck out at Pete Buttigieg on Saturday, telling attendees at a beachside rally for Sen. Bernie Sanders' presidential campaign that the South Bend mayor is beholden to big-dollar donors.
"For anyone who accuses us for instituting purity tests, it's called having values. It's called, giving a damn," the freshman Congresswoman told the crowd. "It's called having standards for your conduct, to not be funded by billionaires but to be funded by the people, which is different."
The comments continue a fight that played out on the debate stage just miles from here on Thursday night. Sen. Elizabeth Warren took Buttigieg to task for a fundraiser he held in a Napa Valley wine cave last week, but Buttigieg responded he rejects purity tests and is happy to take money and campaign help from whoever offers.
Ocasio-Cortez told the more than 14,000-strong crowd assembled in a beachfront park, however, that in her short time in Congress, she's seen firsthand the difference between a candidate funded by wealthy donors and one funded by small dollar donations.
"I go into work all the time and I hear people saying, 'What will my donors think?'" she said. "I see that billionaires get members of Congress on speed dial and waitresses don't, okay? There's a difference."
A spokesman for the Buttigieg campaign volleyed back: "The stakes are too high for purity tests on fundraising or ideology that turn away resources and risk alienating voters," said Buttigieg communications director Sean Savett. "We need to do everything we can to defeat Donald Trump and elect Democrats up and down the ballot."
The back-and-forth between Buttigieg and Warren at the Debate Thursday seems to be damaging both candidates, with Buttigieg fielding accusations that he's an elitist candidate and Warren having to answer for charges of hypocrisy for having accepted donations from the wealthy during her prior Senate runs.
READ: 'Wine Cave' Was the Big Winner of the Debate. And It Says Something About the Democratic Party
The Sanders campaign, on the other hand, sees an advantage to continuing this fight, since it gives him a chance to highlight the fact that he has no billionaire donors at all and that he has raised more than 4 million individual donations so far this cycle.
"We're happy to have this conversation about whether you have a party and candidates who are funded by a grassroots campaign by getting grassroots donations by working class people or whether you know wealthy people are going to continue to dominate politics by investing in relationships with candidates they support," Sanders campaign senior advisor Jeff Weaver told VICE News after the rally.
Sanders has also been willing to wider the scope of the attack and take on former Vice President Joe Biden for accepting the help of a Super PAC.
"I am proud to tell you that as of this moment, our campaign has received more contributions from more people than any candidate in the history of the United States," Sanders told the crowd. "We don't have a super PAC. We don't want a super PAC. We don't go to rich people's wine caves."
"This is a campaign of the working class of this country by the working class, and for the working," he continued.
READ: The Democrats Have a Big Decision to Make About Mike Bloomberg
This progressive purist message is exactly what people in Sanders' orbit believe will help him win liberal-heavy California, a victory on Super Tuesday that Sanders' allies think could help build momentum for the campaign and shake any hint that his campaign doesn't have what it takes to win the primary.
Sanders defended his pie-in-the-sky campaign promises by, as he often does during rallies, quoting Nelson Mandela: "It always seems impossible until it happens."
"The economic establishment, the political establishment, the media establishment tells us every single day not to try not to have high expectations or not to believe that we can make fundamental changes in our society," he said. "But we know differently. We know that the history of change in America always, always takes place from the bottom on up."
Sanders has been spending ample time in California making his case. And he has two weapons he has been deploying in ways no other candidate can: Celebrity star power and grassroots Latino support. Who better to headline this rally, then, than Ocasio-Cortez?
She got a raucous hero's welcome as she walked down an aisle of palm trees to the stage and has helped him turn out massive crowds from New York to California. But she was far from the only celeb in attendance. Actor Tim Robbins spoke, endorsing Sanders. Danny DeVito milled around backstage. Members of the Russian protest band Pussy Riot attended too.
Onstage, the popular locally-based indie band Local Natives played a set, as did Young the Giant, from Irvine, Calif., and Mexican American brother-sister duo Jesse and Joy. These kinds of headliners have helped draw the massive crowds and energy to the Sanders campaign.
All that, and the campaign's large staff and experience from having ran and lost before, will amount to a better performance in Southern and Central California, where Sanders lost to Hillary Clinton last primary election, said Los Angeles City Councilman Gil Cedillo, who endorsed Sanders in both elections and spoke at the rally Saturday.
"We're loaded for bear here," he told VICE News. "The conditions have changed, with us bringing the same forces, if not stronger, more sophisticated, more experienced, more professional."
Cover: Democratic presidential candidate Sen. Bernie Sanders, I-Vt., and Rep. Alexandria Ocasio-Cortez, D-N.Y., greet the crowd during a rally in Venice, Calif., Saturday, Dec. 21, 2019. (AP Photo/Kelvin Kuo)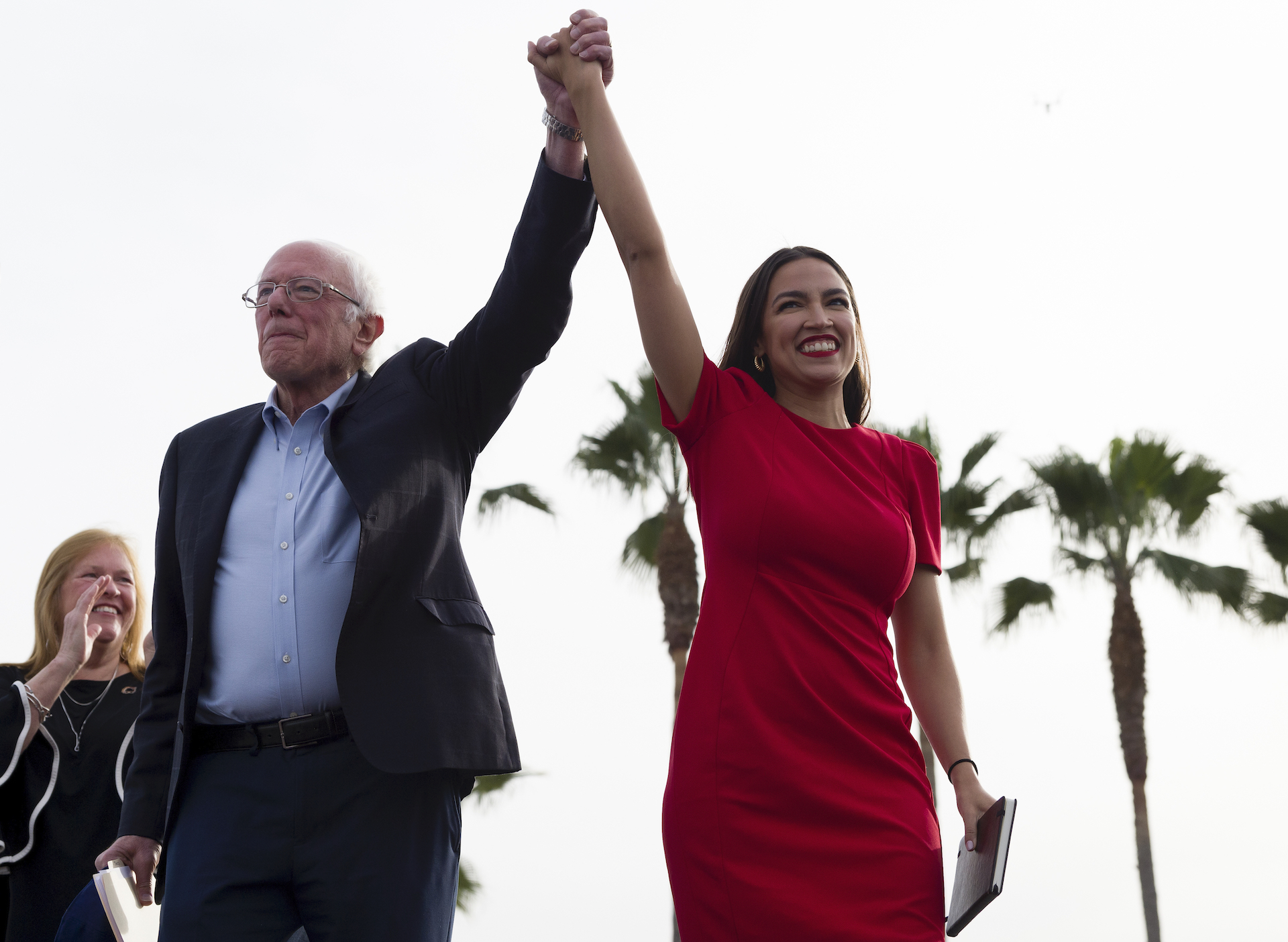 https://www.vice.com/en_us/article/4agykq/aoc-slammed-pete-buttigieg-for-purity-tests-its-called-having-values,