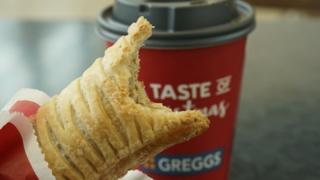 Greggs boss Roger Whiteside has said his firm would pay staff who have to self-isolate because of coronavirus.
"Our default position is that we pay contract hours. We don't have any zero contract hours," he told BBC's Today.
The firm's policy is in contrast to some other firms, which say they will only pay the legal minimum. He said Greggs' policy could be reviewed if coronavirus became a "big problem".
The comments came as Greggs posted a 13.5% rise in 2019 sales to £1.168bn.
The sandwich chain's success was helped by the popularity of its new vegan range, but the baker saw a significant slowdown last month as storms kept customers away.
And Greggs also cautioned there is some uncertainty in the outlook, particularly given the potential impact of coronavirus.
Pre-tax profits rose to £108.3m from £82.6m in 2018, the company said.
Statutory sick pay
Greggs' policy for staff who are ordered to stay at home if they been in contact with an infected person is in contrast to some other companies.
Last week Wetherspoons, one of the UK's biggest employers, said staff would be subject to regular statutory sick pay rules if they had to self-isolate.
Under statutory sick pay rules, an employee is not paid for the first three days of absence, and then only if they earn at least £118 a week.
Health Secretary Matt Hancock has sent guidance to UK employers telling them that staff who have been asked to self-isolate are entitled to take the time as sick leave.
Michele Piertney, of the independent arbitration service Acas, said people would not get sick leave as a matter of course if a medical expert put them into quarantine.
Many casual or agency workers may be entitled to sick pay, but self-employed people are not. Citizens Advice says people on zero-hours contracts can still get sick pay and should ask their employer.
'Most vulnerable'
Dave Prentis, general secretary of the Unison union, has written to Work and Pensions Secretary Therese Coffey asking her to change the rules around sick pay.
He was speaking after fears that zero-hours workers would go into work, even if they were supposed to be self-isolating, to ensure they got paid.
"The government must bring in emergency measures so these low-paid workers are protected financially, particularly those caring for the most vulnerable in society," said Mr Prentis. "It should be made compulsory for employers to give them sick pay, even if they're not officially eligible."
---
The startling success of Greggs – rising sales for six years in a row, a rapid expansion in geographical coverage and a share price that has doubled in three years – is one of the enduring puzzles of British business.
General retailers have been in retreat across the board, and general bakers have been squeezed by tough competition from supermarkets and booming coffee chains like Pret a Manger and Costa. If the formula is not quite right, disaster awaits, as the dramatic failure of Patisserie Valerie proved. Despite all this Greggs has prospered. Why?
Part of the answer is that Greggs has the formula right – it has constantly tweaked what it sells to get the price and range right, and has not been afraid to follow trends. It has also been cute with its marketing, using social media to give the chain an image that belies its traditional roots.
The magic ingredient though, has been its attitude to staff and customers. Chief executive Roger Whiteside says the company's "default position" when staff are off work is to pay. It has fixed hours contracts, not zero hours, and when its stores were closed by floods recently, it continued to pay staff who could not come to work.
It has paid out big bonuses when the times are good – 10% of profits, so £13m this year – and has just reworked its internal culture statement after an extensive consultation with staff. For customers there is the "Greggs Pledge", which promises the company will be run for their good as well.
But this does not mean the company operates in some feelgood happy zone. There is also a pragmatic edge, with the warning that while it intended to pay workers who self-isolate because of coronavirus, that largesse could not continue indefinitely.
---
'Uncertain outlook'
Justin Tomlinson, a work and pensions minister, said the current advice for workers with no sick pay who had to self-isolate was to claim universal credit, the Guardian reports.
The impact of coronavirus could hit Greggs' figures in 2020.
"We made a very strong start to 2020 in January, but in February saw a significant slowdown in sales growth as a result of the storms that have affected the UK," said Mr Whiteside.
"There is some uncertainty in the outlook, particularly given the potential impact of coronavirus. This aside, we expect to make year-on-year progress and will do so from a strong financial position."
https://www.bbc.co.uk/news/business-51718074,