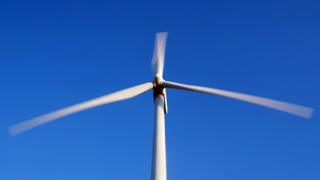 A £104m deal has been agreed to buy two Scottish wind farm projects which have yet to start construction.
Greencoat UK Wind will purchase the Windy Rig and Twentyshilling schemes in Dumfries and Galloway from Statkraft upon completion.
Work is expected to start shortly with target dates in 2021 for the turbines to become operational.
Greencoat chairman Tim Ingram said it was delighted to partner with Statkraft on the project.
"This transaction follows, and is very similar to, our recently announced Glen Kyllachy acquisition from Innogy, with acquisition completion occurring upon the successful commissioning of the wind farms," he said.
Extensive portfolio
Windy Rig – a 12-turbine project near Carsphairn – and Twentyshilling, which involves nine turbines near Sanquhar, are projects originally developed by Element Power which was acquired by Statkraft last year.
Greencoat UK Wind is managed by renewable investment firm Greencoat Capital.
The company already has an extensive portfolio in the UK.
It either owns or has a stake in nearly a dozen wind farms in Scotland, including a 28.2% interest in the giant Clyde wind farm in South Lanarkshire.
In the Scottish Borders, it has a 51.6% stake in Drone Hill, Coldingham, and owns 100% of Carcant, near Heriot, and Langhope Rig, near Hawick.
Windfarms used to appeal only to those who preferred them to the coal-burning alternative. They're now proving attractive to big money.
Two drivers of this: one is an increasing amount of capital, in pension funds for instance, being directed at assets that meet environmental, social or ethical requirements.
The other is the maturing of the industry. It was for the big power companies to take the financial risks, secure the subsidies and to drive the development projects over many years. Smaller companies became niche players in that development work too.
But we are now at the start of an era when onshore wind energy is commercially viable. It does not need subsidy any more. It can be seen to deliver a steady income stream, so asset managers are happy to plough funds into it. As we're finding with this deal, they're paying serious money even for assets that are yet to be built.
Big and small energy developers take the cash and deploy it on the next project, including those technologies that are not yet commercially viable. At present, that means a colossal amount of money going into offshore wind.
We're also at the start of a big shift in the industry towards "re-powering". That's the jargon for replacement of older wind turbines. They usually have a 25 year lifespan. And while it may be possible to extend that, the attraction of replacement is that new designs are far more efficient and deliver far more power.
Indeed, some turbines are being retired early. SSE Renewables announced this Friday that it has won consent to re-power a wind farm on Kintyre, 10 km from Campbeltown. The existing 22 turbines have been operating since 2003. SSE wants to replace them with 16 turbines, which will be 20 metres higher, rising from 130m to 150m. The capacity rises from 19 megawatts to 80 MW – yes, that's right, 27% fewer turbines and 320% more power.
https://www.bbc.co.uk/news/uk-scotland-south-scotland-50868569,