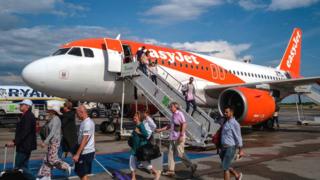 EasyJet is relaunching its package holiday business as the airline looks to fill the gap in the industry left by Thomas Cook's demise earlier this year.
About 20 million people fly with EasyJet to Europe annually but only 500,000 book accommodation through it.
The news came as the carrier reported a 26% fall in pre-tax profits to £427m for the year to 30 September.
EasyJet also said it would become the world's first major net zero carbon airline by offsetting carbon emissions.
Chief executive Johan Lundgren told the BBC's Today programme: "This is not a long-term solution, offsetting is not perfect.
"I don't think it's greenwashing, everyone recognises that it works, but this is in addition to the fact that since 2000, we've reduced our carbon emissions by 30%."
He said that the company would take on the £25m cost and added: "That's not something we're adding on to ticket prices, which makes us one of the largest carbon emissions offsetting companies in the world."
Explaining the decision to relaunch its package holidays, EasyJet said: "The total European package holidays market is worth around £61bn per year. The UK alone is a £13bn market and has grown by 6% annually.
"The way that customers are taking holidays is changing and we know customers want holidays with various durations and not the traditional seven and 14 nights.
"EasyJet is excited about the opportunity to build a major player in the holidays market for a low up-front investment and with limited risk."
The airline said it had conducted research which showed its customers wanted flexibility in flights and tailored holidays, and it had designed its business to respond to this.
EasyJet's shift into package holidays is hardly a Pauline conversion. It already sells about half a million packages a year, and the demise of Thomas Cook has left a gap in the market that cannot have been lost on the airline's chief executive Johann Lundgren, a former employee of Tui, Thomas Cook's main rival.
It plans to roughly double its package holiday sales, which will still make it a small player besides the likes of Tui (which has a Civil Aviation Authority licence to carry 5.6 million people a year) and putting it just above British Airways' in-house holiday operation, which is licensed for just under one million people.
Mr Lundgren could undoubtedly do more – EasyJet is after all probably the biggest carrier of UK customers to traditional sunshine destinations in the Mediterranean – but he will be mindful that investors tend to be nervous about successful low-cost airlines that stray away from their core business.
More eye-catching perhaps is the airline's pledge to offset all its carbon emissions. Environmental campaigners will be sceptical, and the real value of offsetting schemes, which see polluters pay for trees to be planted or for low-carbon energy generation schemes, are open to question.
But Mr Lundgren and the EasyJet board realise that their passengers are becoming acutely sensitive to the environmental impact of flying, and that making them feel more comfortable with an EasyJet flight makes commercial sense. It is in any event only an interim step, Mr Lundgren says, until genuinely carbon-free methods of aircraft propulsion can be found.
'Cautiously optimistic'
EasyJet's results showed that annual revenues rose 8.3% to £6.4bn, as it increased capacity, but total revenue per seat fell 1.8% to £60.81 due to "some weakness in consumer confidence".
Passenger numbers for the year rose 8.6% to 96.1 million.
Julie Palmer, regional partner at business consultancy Begbies Traynor, said EasyJet was "taking advantage of the current climate sweeping across the industry".
She added: "EasyJet has been picking at the bones of other airlines who have suffered at the hands of falling demand, including Air Berlin's assets at Tegel Airport and Thomas Cook's runway slots at Gatwick and Bristol airports.
"With Brexit continuing to drag, EasyJet will be strapping itself in for further turbulence but will be cautiously optimistic for the future and hoping for an upwards trajectory."
However, last week the boss of rival budget airline Wizz Air, Jozesf Varadi, said he was "surprised" to hear of EasyJet's package holiday plans.
He told the Telegraph: "I don't think this packaged holiday industry is going to flourish, I think that the model is outdated, Why should customers pay a premium for pretty much nothing?"
---
Do you book package holidays? If so, why? Or do you prefer to book your flights and hotels separately? What are the benefits of doing it this way?
You can email us at haveyoursay@bbc.co.uk. Please include a contact number if you are willing to speak to a BBC journalist. You can also contact us in the following ways:
To Find More Information, Go To Saubio Digital And Look Up Any Topic