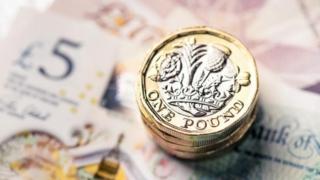 Government borrowing in October rose to its highest level in five years, official data shows.
The Office for National Statistics (ONS) said borrowing last month hit £11.2bn, £2.3bn more than last year.
That is much higher than economists had expected and it is likely to rise again after the election, with all major parties making costly spending pledges.
Total borrowing this financial year, which runs from April, is £46.3bn, over 10% higher than the same time in 2018.
In October, central government borrowed £7.6bn and local governments added another £1bn to the total.
The Bank of England, meanwhile, borrowed £2.5bn and another £100m was borrowed to cover pension costs.
Debt climbed by £32.1bn to £1,798.5bn, or 80.4% of gross domestic product.
Prime Minister Boris Johnson's Conservative Party and the opposition Labour Party have promised big increases in spending on health, schools, police and infrastructure ahead of a general election on December 12.
In September, Chancellor Sajid Javid announced the biggest increase in day-to-day spending in 15 years and Labour has said it wants to nationalise energy companies and other utilities.
Both parties have also promised to put more money into infrastructure if they win the election next month.
---
As the major parties lay out their spending and tax ambitions, there is a new blow for the next chancellor, with a reminder that the cupboard is pretty bare.
Figures from the Office for National Statistics show that the last month was the worst for government borrowing in five years, with a deficit of £11.2bn – up by more than £2bn on a year ago.
That increase was down to an increase in goods and staff spending – perhaps due to Brexit preparations. This leaves the whole year deficit on track to rise for the first time in a decade.
Crucially, the rise in borrowing in recent months risks wiping out the surplus on the current (day-to-day) account which was £5bn last year.
So any party which targets balancing the books on that score will have to raise taxes/cut spending to offset any giveaways.
---
Think tank The Resolution Foundation has said those promises would see public spending grow to its highest level since the 1970s, under either Labour or the Conservatives.
'Sobering'
James Smith, research director for the body, said: "The 2019 public finances deterioration provides a sobering backdrop to manifesto launches this week, alongside a wider weaker outlook for both domestic and global growth next year.
"With all main parties committed to balancing the books on current spending, this deterioration should be a reminder to whoever wins the election that the state of the public finances will continue to be a constraint on plans for higher public service spending or tax cuts in the next parliament."
Labour has said it would fund some of the increased spending through higher income tax on the top 5% of earners – who already pay half of all income tax – as well as reversing cuts in corporation tax made since 2010.
Mr Johnson, meanwhile, has said he will not go ahead with a planned further cut in corporation tax, but he does intend to reduce workers' social security contributions.
Corporation tax revenues fell 6.2% in October, the biggest fall for that month in four years.
But overall tax revenues have increased by 2.4% so far this year – driven by a big rise in staff costs and higher spending on other goods and services.
'Mixed news'
"Today's data contained mixed news on the public finances," said John Hawksworth, chief economist at PwC.
"On the one hand," he said, "borrowing in October was £2.3bn more than in the same month last year.
"On the other hand, estimates of borrowing in the six months from April to September have been revised down by £5.2bn, reflecting lower estimated government spending."
He added: "The net effect of these changes is favourable, with public borrowing in the financial year to date up only £4.3bn compared to the same period last year, rather than an estimated overshoot of just over £7bn in last month's original data."
To Find More Information, Go To Saubio Digital And Look Up Any Topic