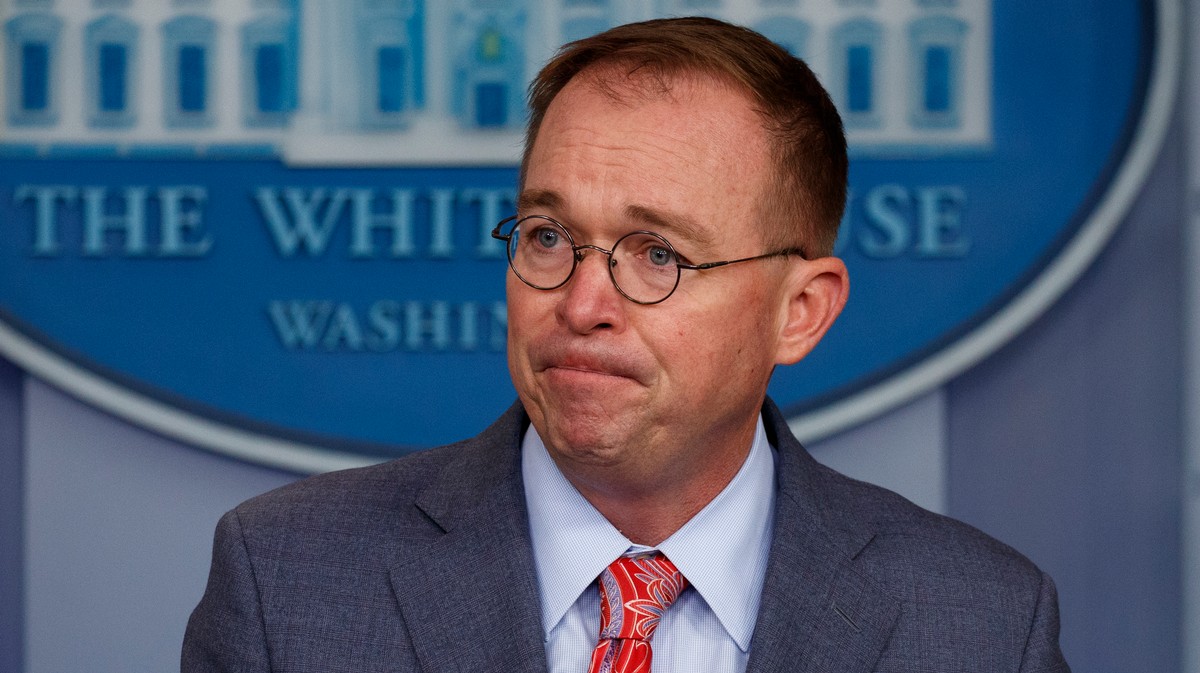 WASHINGTON — President Trump's Chief of Staff Mick Mulvaney famously justified the cash-for-investigations swap with Ukraine at the heart of Trump's impeachment inquiry as commonplace, telling reporters in the White House press room: "Get over it."
Apparently, he was speaking from firsthand knowledge.
Fresh testimony released Friday ties Mulvaney directly to the shadow diplomacy campaign to pressure Ukraine into launching investigations into Trump's Democratic rivals, alongside Trump's EU Ambassador Gordon Sondland and private attorney Rudy Giuliani.
Mulvaney personally approved trading a symbolically important presidential meeting for probes, Sondland told visiting Ukrainian officials on July 10, according to an account by Fiona Hill, Trump's former top White House adviser on Europe and Russia.
"Ambassador SondIand, in front of the Ukrainians, as I came in, was talking about how he had an agreement with Chief of Staff Mulvaney for a meeting with the Ukrainians if they were going to go forward with investigations," Hill said. She later added: "I was quite shocked."
That's just one of a series of disturbing scenes detailed in newly-released testimony from Hill and Trump's top White House adviser on Ukraine, Lt. Col. Alexander Vindman.
Mulvaney had a golden opportunity to address the impeachment inquiry himself Friday morning, but he refused to answer a subpoena to testify, instead asserting he has "absolute immunity" from appearing before Congress as a White House official.
Here's what Hill and Vindman said, and why it's bad not only for Trump but also for three of his top lackeys.
Mulvaney
Both Hill and Vindman testified that the White House chief of staff was involved with the decision to demand that Ukraine announce an investigation into Trump's political rivals — and made that a prerequisite for a White House meeting between Trump and Ukrainian President Volodymyr Zelensky, a top priority for Ukrainian officials. He also directly ordered a freeze in military aid.
Vindman said that Sondland told him flat-out that Ukraine would need to investigate the Bidens and the 2016 election in order to get a White House meeting — and that had been agreed upon by Mulvaney. Sondland relayed that message in no uncertain terms to Ukrainian officials during a July 10 meeting at the White House.
Read: Looks Like That Rough Transcript of Trump's 'Perfect' Call With the Ukrainian President Left Some Stuff Out
"He just said he had a conversation with Mr. Mulvaney, and this is what was required in order to get a meeting," Vindman said Sondland told him.
Hill said the same: That Sondland twice told Ukrainian officials, first during the meeting with Bolton and then again in a subsequent meeting after Bolton abruptly ended the first one, that he and Mulvaney had nailed down the quid pro quo.
Hill and Vindman both said they took their concerns to John Eisenberg, the top attorney on the National Security Council.
The pair also testified that they were told it was Mulvaney who ordered the freeze in military aid to Ukraine. Vindman said he first heard about that aid freeze on July 3, two weeks before others found out about it.
They're not the only ones to assert Mulvaney was central in this process. George Kent, the deputy assistant secretary for European and Eurasian affairs who oversees Ukraine policy, said in testimony released Thursday that an unnamed official at the Office of Management and Budget announced during a July 18 secure video conference that OMB Director and White House Chief of Staff "Mick Mulvaney, at the direction of the president, had put a hold on all security assistance to the Ukraine."
Mulvaney shockingly said during a White House briefing on Oct. 17 that the White House had held up military aid to Ukraine in order to get an investigation into a conspiracy theory that Ukraine had sought to undercut Trump in the 2016 election — as well as "corruption," e.g., the Bidens.
"Did he [Trump] also mention to me… the corruption related to the DNC server? Absolutely, no question about that. But that's it, and that's why we held up the money," Mulvaney declared. "The look-back to what happened in 2016 was certainly part of the thing that he was worried about, and corruption with that nation."
Mulvaney tried to walk that back. It wasn't believable then.
Sondland
Mulvaney may be new to the impeachment microscope, but at least he has company. Friday's testimony dump presents yet more problems for Sondland, who has already had to submit a four-page addendum to his original testimony as he tries to avoid facing perjury charges. In that statement, he admitted that he told Ukraine they wouldn't get their military aid without a statement about the investigations.
That's just the beginning, though.
According to both Vindman and Hill, who were at the meeting, Sondland explicitly told Ukrainian officials on July 10 that they would only get their desired White House meeting between Zelensky and President Trump if they announced an investigation — Vindman said Sondland mentioned "Ukraine delivering specific investigations in order to secure the meeting with the president."
In a subsequent meeting, Vindman said Sondland told the Ukrainians they "would have to deliver an investigation into the Bidens" to get a White House meeting with Trump.
Sondland also told Hill that Trump put him in charge of Ukraine policy, a big split from his attempts during his own testimony to paint himself as a bit player.
Hill described Sondland as "clueless" about counterintelligence risks, and frequently sending text messages from his personal phone to government phones that had their text capability turned off.
"We kept telling him over and over again, please do not text us," Hill said.
Hill had a "blow-up" with Sondland after he insisted that Trump had put him in charge of Ukraine.
After Hill said, "You're not," Sondland got "testy," she said.
"And I said, 'Who said you're in charge of Ukraine, Gordon?' And he said, 'The President.' Well, that shut me up, because you can't really argue with that. But then I wasn't, to be honest, I wasn't really sure," Hill testified.
Giuliani
Hill offered a similarly grim appraisal of Giuliani. She blamed Trump's personal attorney for starting a rumor campaign against the former U.S. ambassador to Ukraine, Marie Yovanovitch — and those rumors made Hill "mad."
She said the chatter eventually escalated into conspiracy theories involving George Soros, a Hungarian-American billionaire who has become a magnet for outlandish accusations of nefarious global influence.
"When I saw this happening to Ambassador Yovanovitch, I was furious, because this is, again, just this whipping up of what is frankly an anti-semitic conspiracy theory about George Soros to basically target nonpartisan career officials," Hill said.
That touched a nerve — because Hill remembered receiving her own "death threats" during her first year on Trump's National Security Council.
Giuliani has made the unproven claim in interviews and on Twitter that Soros had some kind of murky involvement in Ukraine, which Giuliani suggested he was somehow investigating.
Yovanovitch blamed the rumor campaign for prompting her early recall from Ukraine this spring.
Hill said that Bolton wasn't aware of any specific government role that Giuliani had been assigned for Ukraine — but was keenly aware of Giuliani's involvement. Bolton would frequently turn up the volume for Giuliani's interviews on Fox News on the television in his office, Hill said.
"Mr. Giuliani was asserting quite frequently on television in public appearances that he had been given some authority over matters related to Ukraine, and if that was the case, we hadn't been informed about that," Hill said.
"But he was making a lot of public statements and, you know, obviously making a lot of assertions, including about our ambassador to Ukraine, Masha Yovanovitch."
All these machinations have undermined the U.S. relationship with Ukraine, Vindman said.
"Our relationship is damaged," Vindman said. "I think as this process wears on, I think the relationship will continue to be damaged and undercut. It undercuts U.S. resolve to support Ukraine and certainly puts a question into their mind whether they in fact have U.S. support."
Cover: White House chief of staff Mick Mulvaney at a White House press conference on Thursday, Oct. 17, 2019, in Washington. (AP Photo/Evan Vucci)
Source
To Find More Information, Go To Saubio Digital And Look Up Any Topic