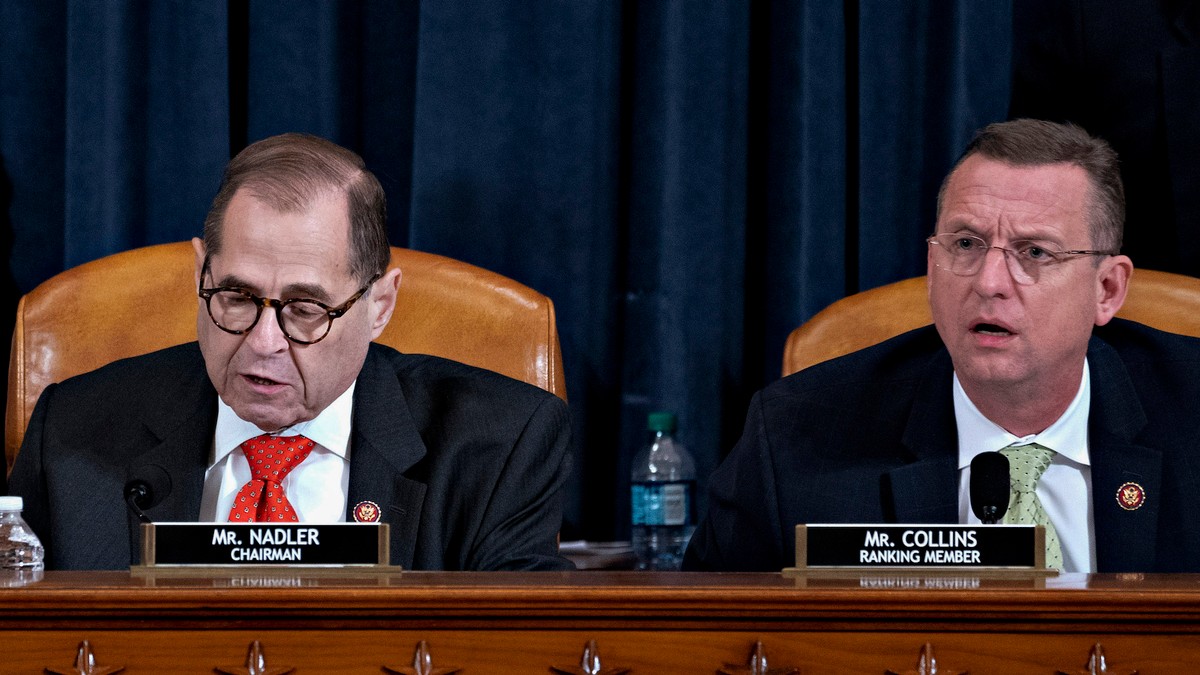 WASHINGTON — Impeachment is a go.
The House Judiciary Committee voted to impeach President Trump on Friday morning, a historic moment following an absurd marathon of hearings that sets up what will be just the third impeachment of a sitting president in U.S. history.
The committee voted along party lines to approve two articles of impeachment: Obstruction of Congress and abuse of power. The vote clears the last major procedural hurdle before a full House vote next week.
"Today is a solemn and sad day. For the third time in a little over a century and a half, the House Judiciary Committee has voted articles of impeachment against the president — for abuse of power, and obstruction of Congress. The House will act expeditiously," House Judiciary Committee Chairman Jerry Nadler (D-N.Y.) said in a brief statement to reporters following the vote.
READ: The Democrats just handed Trump a huge policy win after moving to impeach him
The two articles of impeachment are serious charges built on weeks of testimony from multiple U.S. officials that President Trump pressured Ukraine to launch investigations into his political foes.
The first declares that Trump "solicited the interference of a foreign government, Ukraine, in the 2020 United States Presidential election" by pressuring them " to publicly announce investigations that would benefit his reelection, harm the election prospects of a political opponent, and influence the 2020 United States Presidential election to his advantage."
The second says Trump "directed the unprecedented, categorical, and indiscriminate defiance of subpoenas issued by the House" as he sought to stonewall the impeachment investigation, an abuse of "the powers of the presidency in a manner offensive to, and subversive of, the Constitution."
READ: Mitch McConnell just told Fox News exactly how impeaching Trump is going to end
The moment itself felt almost anticlimactic. There were no big speeches ahead of the vote. Nadler gaveled the committee in, called the pair of votes, and immediately adjourned. After more than two days of intense partisan bickering, the Friday session was wrapped in less than ten minutes.
"This is really a sad day. big show, everybody got dressed up, no place to go," Rep. Louie Gohmert (R-Texas) fumed to reporters shortly after the votes concluded.
That stood in stark contrast to the previous two days, that included a 14-hour Thursday bicker-fest where Republicans raged against the process and repeatedly attacked former Vice President Joe Biden. Nadler decided shortly before midnight Thursday to postpone the committee vote until Friday morning rather than drag it into the middle of the night, as Republicans had intended.
READ: We found a Democratic congressman who still doesn't know if Trump should be impeached
Nadler's announcement that hearing would adjourn led to an explosion from Rep. Doug Collins (R-Ga.), the ranking Republican on the committee, who griped that it would screw up members' Friday plans.
"You've just blown up schedules for everyone," Collins said Thursday night. "This is the kangaroo court that we're talking about."
The House will vote on impeachment sometime next week, and is expected to pass both articles of impeachment largely along party lines. Republicans expect none of their members will back either article of impeachment. While a handful of Democrats in GOP-leaning districts are expected to oppose at least one of the two articles of impeachment, Democrats think that there won't be more than about a half-dozen of them who break off from the party.
The Senate trial is expected to begin in early January. There's zero chance that the Senate will vote to remove Trump from office — a vote that would require two thirds of senators. Senate Majority Leader Mitch McConnell (R-Ky.) is working closely with the White House to try to minimize political fallout for Trump and the GOP from the trial, a strategy that includes refusing to call witnesses, though a handful of moderate Republican senators could decide to force a fairer process.
Cover: U.S. House Judiciary Committee Chairman Jerry Nadler (D-NY) (L) gavels to an adjournment the committee hearing on the articles of impeachment against President Donald Trump as ranking member Doug Collins (R-GA) looks on at the Longworth House Office Building on Thursday December 12, 2019 in Washington, DC. (Photo by Andrew Harrer – Pool/Getty Images)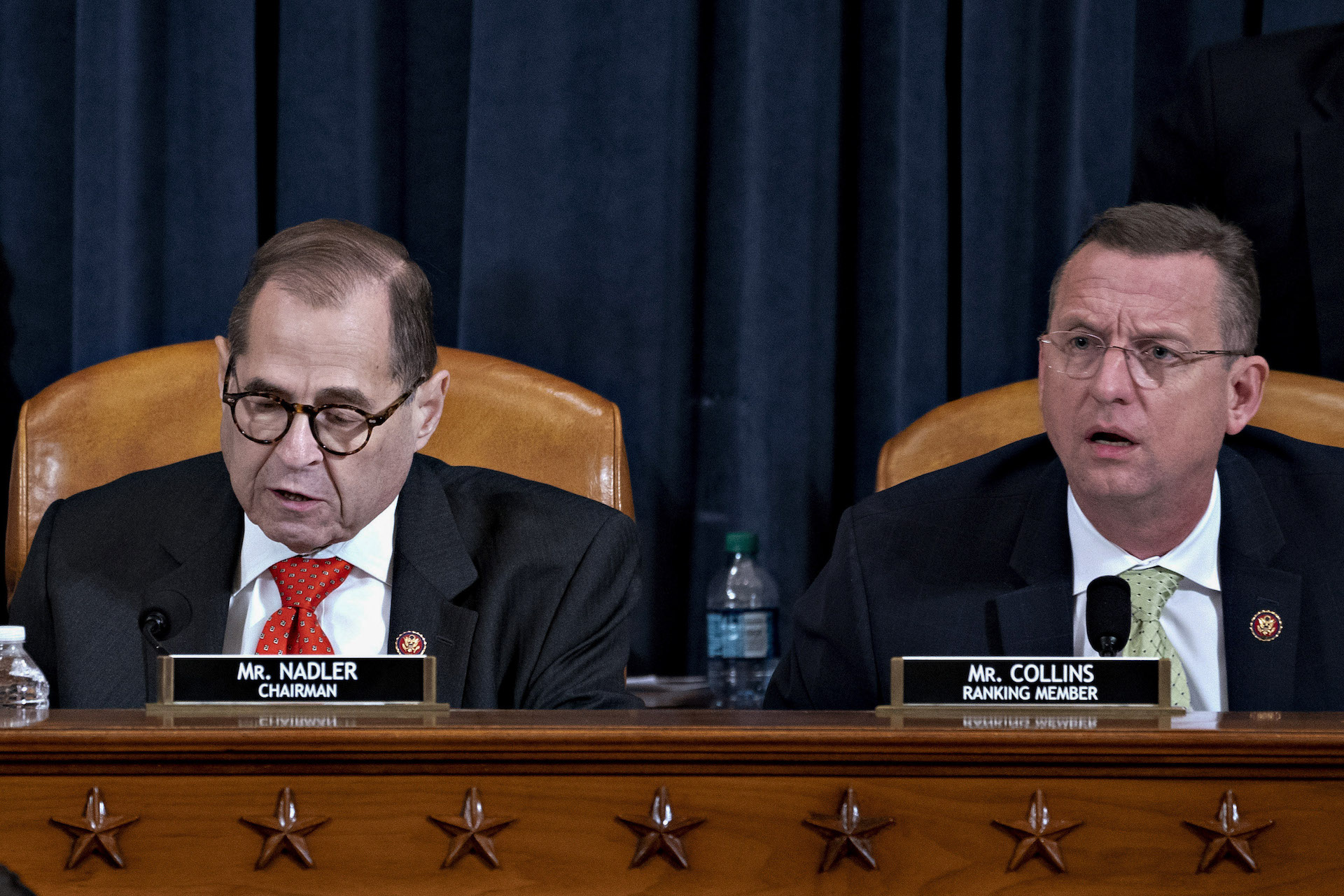 Source
To Find More Information, Go To Saubio Digital And Look Up Any Topic