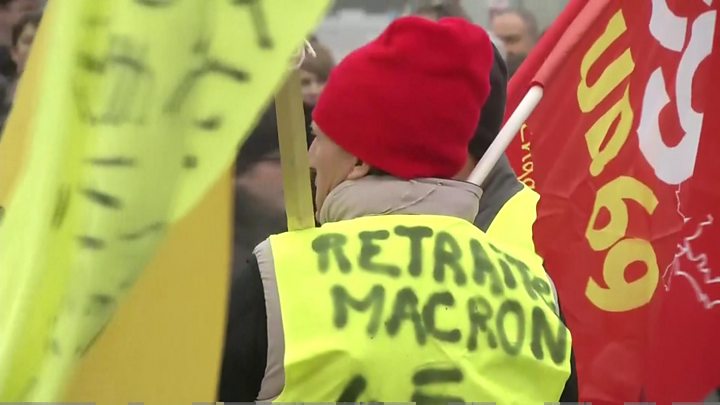 France's largest nationwide strike in years has severely disrupted schools and transport.
Workers are angry about planned pension reforms that would see them retiring later or facing reduced payouts.
School and transport workers have been joined by police, lawyers and hospital and airport staff for a general walkout that could include millions of people.
President Emmanuel Macron wants to introduce a universal points-based pension system.
That would replace France's current system, which has 42 different pension schemes for its private and public sectors, with variations in retirement age and benefits.
"What we've got to do is shut the economy down," said union official Christian Grolier of the Force Ouvrière (Workers' Force). "People are spoiling for a fight."
Interior Minister Christophe Castaner said on the eve of the strike that he expected almost 250 demonstrations nationwide, some of which he said could turn violent.
On Paris's famous Champs-Élysées boulevard, riot police began searching pedestrians' bags before dawn.
Popular tourist sites including the Eiffel Tower, the Musée d'Orsay and the Palace of Versailles have shut for the day.
As of midday, police in the capital said they had detained 18 people ahead of a planned march towards the Place de la Nation which was set to start at 14:00 local time (13:00 GMT). Shops on the protest route were ordered to close.
And in the city of Nantes, protesters were tear-gassed after some threw projectiles at police, French news channel BFM reported.
How bad is the transport chaos?
Transport networks ground to a near-halt in some areas on Thursday morning.
Some 90% of high-speed TGV and inter-city trains have been cancelled, with buses also affected. In Paris, just five of the city's 16 metro lines are running.
The morning rush hour saw deserted stations as commuters shared car rides, took to their bikes or worked from home.
"Public transport will be very difficult today, as it will tomorrow and probably this weekend too," Junior Transport Minister Jean-Baptiste Djebbari told French station RTL radio.
Train operators Eurostar and Thalys, which run international services, have cancelled at least half their services linking Paris with London and Brussels. Eurostar will operate a reduced timetable until 10 December.
Air travel has been badly affected, with hundreds of flights cancelled. Air France said it would cancel 30% of internal flights and 30% of short-haul international flights amid walkouts by air traffic controllers.
Low-cost carrier EasyJet has cancelled 223 domestic and short-haul international flights, and warned passengers to expect delays.
Who else is walking out?
Nurses and hospital staff, lawyers and police officers, refuse collectors, energy staff and postal workers are among others participating in industrial action.
France's health minister said it was not yet clear how badly hospitals would be hit, but preparations had been made to deal with the strike.
Parents with children of primary school age have also been affected.
The largest primary school teachers' union said it expected as many as four out of 10 schools to shut across the country. About 70% of primary teachers are expected to take industrial action.
The union representing secondary or high schools expects 60% of teachers to go on strike, but schools are due to stay open.
Farmers, whose pensions are among the lowest in the country, have said they will not join Thursday's strikes.
How long will the disruption last?
The industrial action is expected to last beyond Thursday and some trade union leaders have warned they will keep it up until Mr Macron abandons his campaign promise to overhaul the retirement system.
One opinion poll put public support for the strikes at 69%, with backing strongest among 18- to 34 year olds.
The Macron administration will hope to avoid a repeat of the country's general strike over pension reforms in 1995, which crippled the transport system for three weeks and drew massive popular support, forcing a government reversal.
A number of "gilets jaunes" (yellow-vest) protesters said they planned to join the demonstrations.
The movement, which emerged at the end of 2018, started with demonstrations against a sharp increase in diesel taxes, but has broadened to reflect anger over higher living costs and President Macron's economic policies.
Are Macron's pension reforms really that controversial?
France currently has a system comprising dozens of different schemes and Mr Macron wants to create a unified system, which he says would be more fair.
His new plan aims to reward employees for each day worked, awarding points that would later be transferred into future pension benefits.
The official retirement age has been raised in the last decade from 60 to 62, but remains one of the lowest among the OECD group of rich nations – in the UK, for example, the retirement age for state pensions is 66 and is due to rise to at least 67.
The move to a universal points-based pension system would remove the most advantageous pensions for a number of jobs ranging from sailors to lawyers and even opera workers.
Meanwhile, those retiring before 64 would receive a lower pension. For example, someone retiring at 63 would receive 5% less, so unions fear it will mean having to work longer for a lower pension.
A recent poll concluded that 75% of people thought that pension reforms were necessary, but only a third believed the government could deliver them.
What do the workers say?
Several workers have explained their grievances, ranging from poor salaries to frustration with the political class.
Paris metro driver Damien Vitry told the France Info news website that he provided a service so others could celebrate New Year's Eve.
"You lose out with your family life and that's why we get compensation," he said. "This pension reform is a bit like a football match where they change the rules at half-time."
With all the added measures he would now have to work longer if he wanted a full pension, he complained.
Train driver Cyril Romero, from Toulouse, told France Info he would reconsider his job if the reforms went through.
"I started in 2001 with a contract that allowed me to leave at 50. But like everyone else, I got the reforms which pushed back my early retirement age to 52-and-a-half and then, in reality, 57-and-a-half for full pension. Now they want to make us work even longer."
An unnamed history teacher, writing in HuffPost, was planning to strike on Friday as well as Thursday.
"For me, the pension reforms are one punch too many. We're fighting not to lose hundreds of euros of pension a month – after more than 40 years in a job.
"How can you even dream of ending your career in front of pupils beyond the age of 70, in worsening conditions and on what for many of us is just a minimum wage?"
---
Are you taking part in the strike? Have your travel and other plans been affected due to the dispute? Email haveyoursay@bbc.co.uk.
Please include a contact number if you are willing to speak to a BBC journalist. You can also contact us in the following ways:
To Find More Information, Go To Saubio Digital And Look Up Any Topic