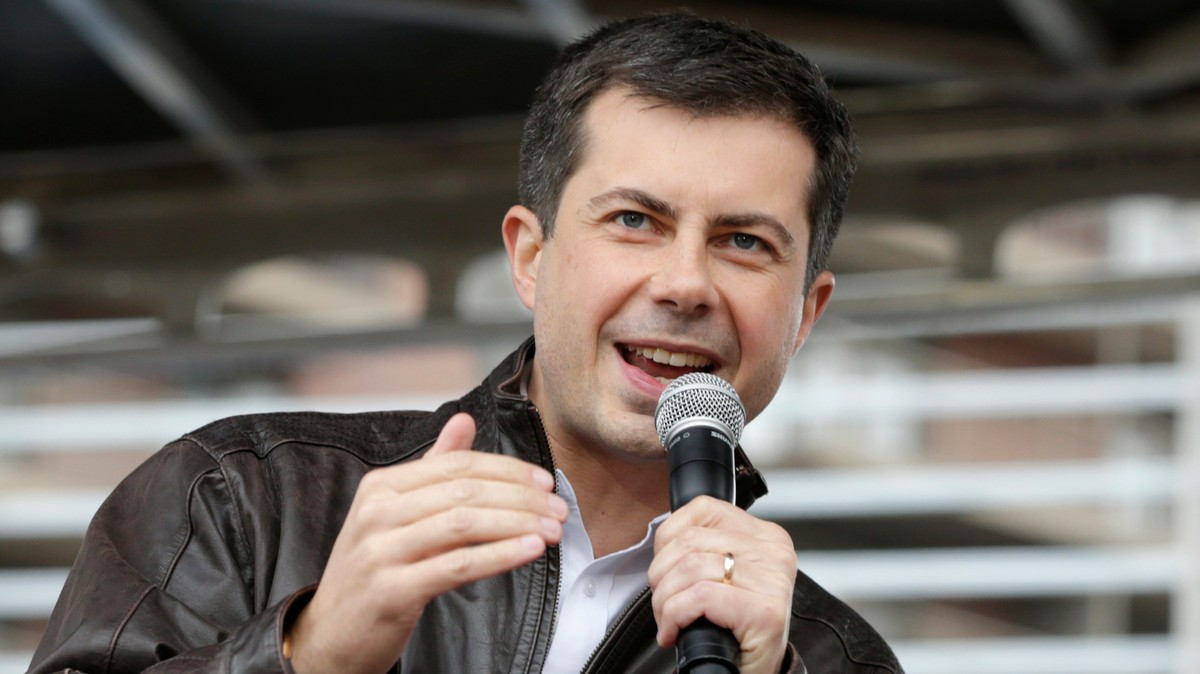 Want the best of VICE News straight to your inbox? Sign up here.
Pete Buttigieg unveiled his plan to give free college to much of the middle- and working-classes — a plan that sets Buttigieg apart as the liberal-but-not- that-liberal candidate in the Democratic field.
The South Bend, Indiana, mayor revealed his plan Friday to give free college to 80% of families earning less than $100,000 a year and to reduce tuition at public universities for families earning between $100,000 and $150,000. Mayor Pete also wants to invest $500 billion in federal funds to make that happen.
With this plan, Buttigieg's positioning himself firmly to the left of former Vice President Joe Biden and to the right of Sens. Bernie Sanders and Elizabeth Warren, as he's been doing with his policy proposals across the board.
Sanders and Warren want to make college free at public universities, although they differ on how much college debt to erase. (Bernie wants it all gone.) Buttigieg, meanwhile, is taking a more targeted approach with a plan designed specifically to help the working class. Buttigieg previously suggested debt relief for students who'd gotten swindled by "low-quality" programs, like for profit-schools, but Friday's plan mentioned that he'd soon release a more comprehensive plan on student debt. He also wants to expand the Pell Grant program to help low-income students cover the costs of housing.
Biden, on the other hand, has put forward a plan to offer free community college and other two-year training programs to anyone who wants them.
"Our government can, and should, play a role in setting a level playing field that gives all Americans a chance to succeed," Buttigieg's plan reads. "That doesn't mean government taking over the economy. But government does need to be a vigorous presence in ensuring that our economy actually works for all."
READ: What the 2020 Democrats say they'll do about your college debt
Buttigieg has similarly charted a moderate course on healthcare. His "Medicare for All Who Want It" plan is a public option, but not quite so ambitious as Sanders and Warren's Medicare For All, which would enroll everyone in a government-run health insurance program.
Taking the lane between Biden and the party's left wing seems to be working for Buttigieg, at least in Iowa, where's Mayor Pete has climbed in the polls. That's making the first caucus a tight four-way race. Warren had the lead, polling at 22% in last week's New York Times / Siena College Poll, and Bernie was trailing her with 19%. But Buttigieg, the favorite of 18% of respondents, pulled ahead of Biden, who polled just 17%.
Buttigieg's plan to bankroll college tuition for most low-income earners is part of a larger economic proposal, one that loops also mentioned expanding union protections, voices his support a $15 minimum wage, and a $700 billion investment in universal early childhood education.
Cover image: Democratic presidential candidate and South Bend Mayor Pete Buttigieg addresses supporters during a rally before participating in the Democratic Party's Liberty and Justice Celebration event in Des Moines, Iowa, Friday, Nov. 1, 2019. (AP Photo/Nati Harnik)
Source
To Find More Information, Go To Saubio Digital And Look Up Any Topic