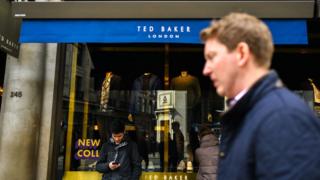 Ted Baker boss Lindsay Page, who was only appointed in April, has resigned in the latest blow for the troubled fashion retailer.
The brand's chairman David Bernstein has also quit, and it has issued another profit warning.
Ted Baker shares fell by as much as 36% on the news before paring some losses.
The firm, which is struggling with falling sales, said the past year had been the "most challenging in our history".
It has also been dealing with the fallout of a misconduct scandal involving previous boss Ray Kelvin. Mr Kelvin denies the allegations which centre on claims of "forced hugging".
Issuing its profit warning, Ted Baker said it had seen worse-than-expected trading in November, including on Black Friday.
As such, it said its full-year profit – previously forecast by analysts at £28.4m – was now likely to be just £5m to £10m, depending on how well it trades over Christmas.
The firm said it had hired consultants Alix Partners to carry out an urgent review of the group's business. It also announced it had suspended its shareholder dividend payout.
Further blows?
Sophie Lund-Yates, an equity analyst at Hargreaves Lansdown, said price discounting across the retail sector was hurting Ted Baker.
"It has left profits unravelling, and the higher price tags on Ted's clothes means it's more vulnerable to price-slashing than some rivals."
She also warned that weak consumer spending in its key UK and Europe markets showed no signs of strengthening. "Ted isn't down and out at this point, but further blows can't be discounted," she said.
Shares in Ted Baker have fallen by more than 75% since January, in a year which has seen it give four profit warnings.
Last week its bosses also revealed that the group's inventory had been overstated by between £20m and £25m, sparking another tumble in the share price.
Chief financial officer Rachel Osborne will become acting chief executive with immediate effect, with Mr Page helping with the transition.
Non-executive director Sharon Baylay will take on the role of acting chair following the departure of Mr Bernstein.
To Find More Information, Go To Saubio Digital And Look Up Any Topic