Tesco has suspended production of charity Christmas cards at a factory in China after a six-year-old girl found a message from workers inside one.
The note, found by Florence Widdicombe, was allegedly written by prisoners in Shanghai claiming they were "forced to work against our will".
"Please help us and notify human rights organisation," the message said.
Tesco said it was "shocked" by the report, adding: "We would never allow prison labour in our supply chain."
The supermarket said it would de-list the supplier of the cards, Zheijiang Yunguang Printing, if it was found to have used prison labour.
Florence was writing cards to her school friends when she found that one of them – featuring a kitten with a Santa hat – had already been written in.
In block capitals, it said: "We are foreign prisoners in Shanghai Qingpu prison China. Forced to work against our will. Please help us and notify human rights organisation."
It asked whoever found the message to contact Peter Humphrey, a British journalist who was himself imprisoned there four years ago.
Florence, from Tooting in south London, told BBC News she was writing "my sixth or eighth card" when she saw "somebody had already written in it".
"It made me feel shocked," she said, adding that when it was explained to her what the message meant she felt "sad".
Her father, Ben Widdicombe, said he first felt "incredulity" at discovering the message, adding he first thought it was "some sort of prank".
"But on reflection we realised it was potentially quite a serious thing," he said. "I felt very shocked but also felt a responsibility to pass it on to Peter Humphrey as the author asked me to do."
He said: "It hits home. There are injustices in the world and there are people in difficult situations and we know about that and we read about that each and every day.
"There is something about that message hitting home at Christmas… that really does make it very poignant and very powerful."
He added: "It could have ended up anywhere. And indeed we have many cards as all families do that are left over and we put them in a drawer and forget about them. There is an incredible element of chance in all of this that the card was written, it got to us and we opened it on the day we did."
A Tesco spokeswoman said: "We were shocked by these allegations and immediately halted production at the factory where these cards are produced and launched an investigation."
The supermarket said it has a "comprehensive auditing system" to ensure suppliers are not exploiting forced labour.
The factory in question was checked only last month and no evidence of it breaking the ban on prison labour was found, it said.
Sales of charity Christmas cards at the company's supermarkets raise £300,000 a year for the British Heart Foundation, Cancer Research UK and Diabetes UK.
The retailer has not received any other complaints from customers about messages inside Christmas cards.
'Very bleak life'
The message in the card urged the recipient to contact Peter Humphrey, who was formerly imprisoned at Qingpu on what he described as "bogus charges that were never heard in court".
After the Widdicombe family sent him a message via Linkedin, Mr Humphrey said he then contacted ex-prisoners who confirmed inmates had been forced to work.
He then wrote the story for the Sunday Times.
Mr Humphrey told the BBC: "I spent two years in captivity in Shanghai between 2013 and 2015 and my final nine months of captivity was in this very prison in this very cell block where this message has come from.
"So this was written by some of my cellmates from that period who are still there serving sentences.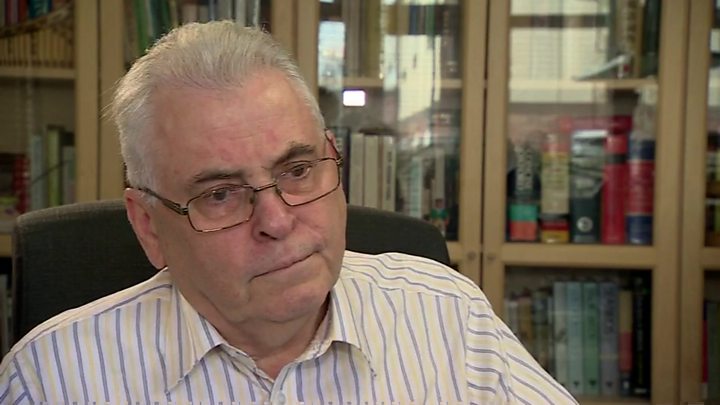 "I'm pretty sure this was written as a collective message. Obviously one single hand produced this capital letters' handwriting and I think I know who it was, but I will never disclose that name."
He said the cell block of foreign prisoners has about 250 people in it, who are living a "very bleak daily life" with 12 prisoners per cell.
"They sleep in very rusty iron bunkbeds with a mattress which is no more than about 1cm thick underneath," he said.
"In the winter it's extremely cold, there's no heating in the building and in the summer it's extremely hot because there is no air conditioning.
"They get up around 5:30-6:00am every day they have to go to bed again at about 9.30."
He said when he was in there, manufacturing labour work was voluntary – to earn money to buy soap or toothpaste – but that work has now become compulsory.
"Everyone I know in there at the time was in there for very questionable reasons," he said. "I met so many people who I considered to be the victims of wrongful imprisonment or at least reckless sentencing for minor offences."
Mr Humphrey said he believes those who wrote the note "knew very well what risks they were taking and they were prepared to take this risk".
"They know very well that if they're caught, they will be punished. They could be punished for example by losing some merit points or having some kind of deprivation of some of their food allowance.
"They could be punished by sending them to solitary confinement for a month or something like that where conditions are fairly harsh."
Mr Humphrey also said that censorship in the prison had increased, cutting off his usual methods of contacting prisoners he had met before his release in 2015.
"They resorted to the Qingpu equivalent of a message in a bottle, scribbled on a Tesco Christmas card," he said.
It is not the first time that prisoners in China have reportedly smuggled out messages in products they have been forced to make for Western markets.
In 2012, Julie Keith from Portland, Oregon, discovered an account of torture and persecution by a prisoner who said he was forced to manufacture the Halloween decorations she had purchased.
And in 2014, Karen Wisinska from Co Fermanagh in Northern Ireland, found a note on a pair of Primark trousers reading: "Our job inside the prison is to produce fashion clothes for export. We work 15 hours per day and the food we eat wouldn't even be given to dogs or pigs."
Under the UN's guidance for human rights and prisons, prisoners "should not be subordinated merely to making a profit either for the prison authorities or for a private contractor".
The standard minimum rules for the treatment of prisoners state: "Prison labour must not be of an afflictive nature."
https://www.bbc.co.uk/news/uk-50883161,