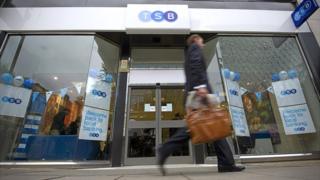 TSB is to close 82 branches next year as part of a plan by new chief executive Debbie Crosbie to make £100m of cost savings by 2022.
The Spanish-owned bank has 540 branches and is trying to restore its reputation after last year's huge IT failure, which hit 1.9 million customers.
The outlets to be shut will be named on 28 November after staff have been told.
TSB would not comment on job numbers, but it is thought that between 300 and 400 positions will be affected.
Ms Crosbie replaced Paul Pester, who stepped down in September last year following the IT debacle that began in April 2018 when an attempt to move data to a new computer system went wrong.
Announcing the new strategy, she said: "The plan we're sharing today involves some difficult decisions, but it sets TSB up to succeed in the future.
"Our new strategy positions TSB to succeed in a challenging environment at a time when we know customers want something different and better from their bank."
The bank – which was spun out of Lloyds Banking Group – will spend £180m closing the branches and on other restructuring costs.
TSB was created in 2013 under the instruction of the European Commission after Lloyds was bailed out by UK taxpayers in 2008.
It started with 631 branches, which included those that were branded Cheltenham & Gloucester as well as all Lloyds branches in Scotland.
That network has already been reduced in size and it is thought that under this latest reduction the staff affected will be offered redeployment opportunities where possible.
Lloyds floated TSB as a stand-alone bank on the London stock market, but it was then bought by Sabadell of Spain in 2015.
As well as closing branches, Ms Crosbie said the bank would spend £120m on improving its digital offering and automating some of its branches. By 2022, it expects 90% of transactions to be self-service.
The bank also wants to speed up the time it takes to open and start using a current account from seven days to 10 minutes.
Last year's IT failure drove the bank to a loss in 2018, although in the first half of this year it reported a profit of £21.1m. Ms Crosbie is aiming for profits of between £130m and £140m in 2022.
Analysis: Just another bank
By Simon Gompertz, personal finance correspondent
The humiliation of last year's catastrophic breakdown has forced TSB to abandon grandiose promises.
When it was hived off from Lloyds six years ago, it pledged to be a bank you could trust, without the "funny stuff" that tainted other scandal-ridden banks.
It wowed people with a current account paying 5% interest.
Its then chief executive, Paul Pester, attacked rivals for "savagely cutting branches" and made a firm commitment to his outlets, promising to expand the network.
The IT failure knocked a deep dent in customer trust, and then TSB cut its flagship interest rate.
And now Debbie Crosbie, the boss brought in to steady the ship, is targeting branches.
It is true that the rise of the internet is forcing the industry to change.
But that's the point. TSB promised it would be something different. Now we see it is just another bank.
To Find More Information, Go To Saubio Digital And Look Up Any Topic